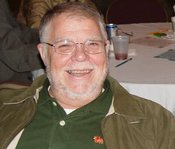 Larry Cannon
Bishop Joseph A. Durick 4th Degree Assembly 2399 has announced its new officers for the 2015 - 2016 fraternal year.
Larry Cannon will lead the Assembly as Faithful Navigator. Larry is a Past Grand Knight of Council 10567.
Other officers elected are Mike Wehby, Jr., Faithful Captain; William Boone, Faithful Admiral; Gaeton Conte, Faithful Scribe; Dale Blanchard, Faithful Comptroller; Jon Karch, Faithful Purser; Gerald Kiker, Faithful Pilot; Joe Schober, Faithful Inner Sentinel; Joe Dush, Faithful Outer Sentinel; Clay Reece, Three-Year Trustee; Louis J. Muro, Two-Year Trustee; and Fred Deason, One-Year Trustee. Father Vernon Huguley will serve as Faithful Friar.
The primary purpose of the 4th Degree is to foster the spirit of patriotism and to uphold the Catholic faith. Through active membership in local 4th Degree Assemblies, Knights promote responsible citizenship and a love of and loyalty to the Knights' respective countries.