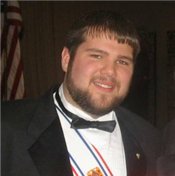 Greg Brasher
Greg Brasher has been elected to serve as Grand Knight of Knights of Columbus Council 10567 for the 2013 - 2014 fraternal year.
Greg and his wife Nicole and son Nicholas live in Pleasant Grove and have been members of St. Patrick for many years. Greg became a Knight in 2003 and is a Fourth Degree Knight. He has served the Knights in several capacities over the years and served as Deputy Grand Knight during the 2013 - 2014 fraternal year.
Other officers elected are Gerald Kiker, Deputy Grand Knight; Ric Smith, Chancellor; Joe Schober, Recorder; Ronnie Muro, Treasurer; Don Cannon, Advocate; William Boone, Warden; Sammy Owen, Inside Guard; Dwight Ingram, Outside Guard; and Larry Cannon, Three Year Trustee. Father Vernon Huguley will continue to serve as Chaplain and Dale Blanchard continues as Financial Secretary. Other Board of Trustees members will be Clay Reece and Mike Muro. The new fraternal year begins on July 1.
The Knights of Columbus is the world's largest Catholic lay organization. We are celebrated for standing in solidarity with our priests and bishops and for our unwavering support for life. We provide members and their families with volunteer opportunities in service to the Catholic Church, their communities, families, and young people.
The Knights of Columbus has grown from several members in one council to more than 14,000 councils and 1.8 million members throughout the United States, Canada, the Philippines, Mexico, Poland, the Dominican Republic, Puerto Rico, Panama, the Bahamas, the Virgin Islands, Cuba, Guatemala, Guam and Saipan.
For more information on becoming a Knight, send an e-mail to knights@saintpatrickcc.com.