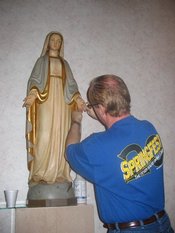 Brother Knight James Vines Works in the Chapel

St. Patrick Knights of Columbus Council 10567 members reported a total of 12,337 service hours for year 2006, an all-time high for the Council and a 22 percent increase over the previous year.
The yearly service program reports submitted to the Alabama State Council showed that Council 10567 members participated in 61 separate activities in 2006. Activities and service hours are reported in the following areas: Council, Church, Community, Pro-Life, Youth and Family.
"These totals are unbelievable to me," Grand Knight Rob Smith said. "They reflect the kind of men we have in our Council. I am just proud to be associated with them."
The reports were compiled by Deputy Grand Knight and Service Program Director Chris Muro and the following committee directors: Ronnie Muro (Council); Phil Troha (Church); John Sokira (Community); Gaeton Conte (Pro-Life); Doug Blanchard (Youth); and Don Meadows (Family).
The 12,337 service hours for 2006 marked a 2,270 increase over the 10,067 hours reported for 2005. Youth activities more than doubled and Council and Community activities both had large increases.
Deputy Grand Knight and Service Program Director Chris Muro said, "I was overwhelmed. You know guys are out there doing a lot of work for the church, community, or the council, but when you actually sit down and try to put everything on paper it is truly amazing."
"A 22% increase in total hours from last year is awesome. Not only that, but we know there are more hours out there - community hours Knights are performing that we miss. 12,000 hours is 500 full DAYS. If you say 50 Knights accounted for these hours that means we averaged 247 hours per Knight – or about 5 hours each week performing volunteer activities. In today's society where it seems everyone is just looking out for themselves to think we have that many men who would consistently volunteer their precious time - it just make you proud to be a Knight."
The Knights of Columbus is open to all men age 18 or older who are practicing members of the Catholic Church. For more information on becoming a Knight, contact Grand Knight Rob Smith or any Knights of Columbus.