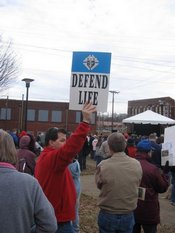 Council 10567 Past Grand Knight Rob Smith
The Knights of Columbus, a leader in the Pro-Life movement for more than 30 years, will hold its 13th Annual International Day of the Unborn Child on Thursday, March 25, 2014.
Knights of Columbus Councils throughout the world use this day to come together with friends and family to pray within their church and communities to show their never-ending commitment to the unborn.
Held in conjunction with the Annunciation of Our Lord, the International Day of the Unborn Child was instituted as an addition to the Order's commitment to build a culture that respects and protects every human life from natural conception to natural death.
The power of prayer from the heart cannot be measured. It is through prayer and faith that we can fight for those who have no voice. With Knights united on this day our prayers will be heard, and we will grow closer to seeing the end of the culture of death.
The International Day of the Unborn thus provides an opportunity for Knights and all Catholics around the world to unite in prayer and become, in the words of Pope John Paul II, "a people of life and a people for life".
We ask that everyone pray the following Prayer for Life:
Prayer for Life
O Mary, bright dawn of the new world, Mother of the living, to you do we entrust the cause of life: Look down, O Mother, upon the vast numbers of babies not allowed to be born, of the poor whose lives are made difficult, of men and women who are victims of brutal violence, of the elderly and the sick killed by indifference or out of misguided mercy. Grant that all who believe in your Son may proclaim the Gospel of life with honesty and love to the people of our time. Obtain for them the grace to accept that Gospel as a gift ever new, the joy of celebrating it with gratitude, throughout their lives and the courage to bear witness to it resolutely, in order to build, together with all people of good will, the civilization of truth and love, to the praise and glory of God, the Creator and lover of life. Amen

Pope John Paul II
Evangelium Vitae, 1995
The Knights of Columbus is the world's largest Catholic lay organization. We are celebrated for standing in solidarity with our priests and bishops and for our unwavering support for life. We provide members and their families with volunteer opportunities in service to the Catholic Church, their communities, families, and young people. With more than 1.8 million members in more than 14,000 Councils around the world, the Knights of Columbus annually donates more than $150 million and 70 million hours of service to charitable causes.
For more information on becoming a Knight, send an e-mail to knights@saintpatrickcc.com.