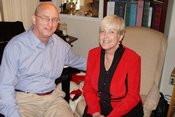 Phil and Julia Neely
Did you know that we have a not-so-famous radio personality right here in our own parish at St. Patrick's? No, not Father Gray Bean. He has been seen and heard many times on EWTN. No, it's not John Martignoni either. He's famous on Catholic Radio and has recently been published nationally.
Our own Phil Neely records a weekly radio spot for a local station in the panhandle of Florida. He and his beautiful wife, Julia, are very active in the House of St. Joseph Society and travel often to meet with their group. So what is the House of St. Joseph?
The House of St. Joseph is a private association of Christian faithful located in Fort Walton Beach, Florida and approved by the Bishop of the diocese of Pensacola - Tallahassee. The apostolate of the House is to pray for our priests and to evangelize Catholics. There are three levels of participation in the community: The Sons and Daughters of St. Joseph is open to practicing Catholics. They take private vows of poverty, chastity and obedience, form the leadership of the community, provide instruction in the Catholic faith and serve as spiritual directors for those in need of help. They are required to complete a 3-year course of study in Holy Scripture, The Catechism of the Catholic Church, Church documents and the Doctors of the Church. The Family of St. Joseph is open to practicing Catholics who wish to participate in the ministry of the community but do not wish to make vows. The Friends of St. Joseph is open to persons of any faith who wish to assist the community by service or financial support.
Phil's message this week addressed the greatest gift we can give at Christmas -- the gift of ourselves! To hear Phil's recording, click here.
Merry Christmas to you, Phil, and to all God's family both here in our parish and all who visit this website.