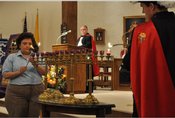 Larry Cannon reads the names of the deceased Knights and Ladies Auxiliary while Patty Wehby and Doug Blanchard light the candles.
Knights of Columbus Council 10567 and Ladies Auxiliary members gathered on Thursday, November 11, 2010 for a special Mass of Remembrance for its 27 deceased members.
The Mass was conducted by Father Vernon Huguley, who serves the Knights as Chaplain. Father Huguley closed his homily by asking those present to share memories of the deceased Knights and Ladies Auxiliary members.
At the close of Mass, each name of the deceased was called out and a candle lit in their memory.
Below are the names of the deceased Knights of Columbus and Ladies Auxiliary members.
Deceased Knights of Columbus:
Benny C. Bakane
Art Bobo
Jerome C. Bradley
Lou Colombo
Albert Duchock
Paul Grefsheim
Norman Gugliotta
Ben Leo
Paul Leonard
Harwell C. Melton
Louis N. Muro
Bill O'Neill
Charles Perryman
Pat Rosato
Joseph Russo
Steve Sokira
Sonny Sorrell
Steve Sullivan
Rick Thomas
David Vines
Joe Wallace
Cruz Wathen

Deceased Ladies Auxiliary Members
Mary Carol Martin
Freddie Canoles
Camille Von Hagel
Eileen Smith
Louise Meadows

"Eternal Rest Grant Unto them O' Lord,
And Let Perpetual Light Shine Upon Them.
May their Souls and All the Souls of the Faithful Departed,
through the Mercy of God, Rest in Peace. Amen."