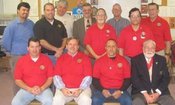 Don Olvey (second from left) is shown seated next to Mike Chieffo. Both are new members of Council 10567.

Don Olvey and Michael Chieffo went through the First Degree Exemplification ceremony on Sunday, December 3 and are now First Degree members of St. Patrick Knights of Columbus Council 10567.
The ceremony was conducted by the Council 10567 First Degree team with District Deputy Jack Boggan and members of Council 10567 present.
Don Olvey and his wife Nancy live in Adger, Alabama and have three children: Lisa, Kris and Joni. They have seven grandchildren. Don works for American Osment Paper and Chemical and enjoys golf, his grandchildren and Alabama football.
Mike Chieffo and his wife Lori live in Dora and they have two children: Michael, age 19 and Nicholas, age 17. Mike runs Mike Chieffo Construction and he enjoys race cars and building race engines.
Members of Council present for the ceremony were Rob Smith, Chris Muro, Greg Skocik, Phil Troha, Charles Blanchard, Dale Blanchard, Gaeton Conte, Joseph Conte, Louis J. Muro and Tom Marks.
The First Degree was held in honor of Doug Blanchard, a member of Council 10567 who serves as Youth Director and Counselor for Columbian Squires Circle 4481.