St. Patrick Knights of Columbus Council 10567 held its 6th Annual Renewal of Wedding Vows program on Sunday, September 19 at the 10 a.m. Mass.
Nine couples renewed their vows in a ceremony performed by St. Patrick Pastor Father Vernon Huguley.
A reception followed Mass that included wedding cakes baked by Father Huguley especially for the occasion.
Click on the ...more pictures link to view photos from this event.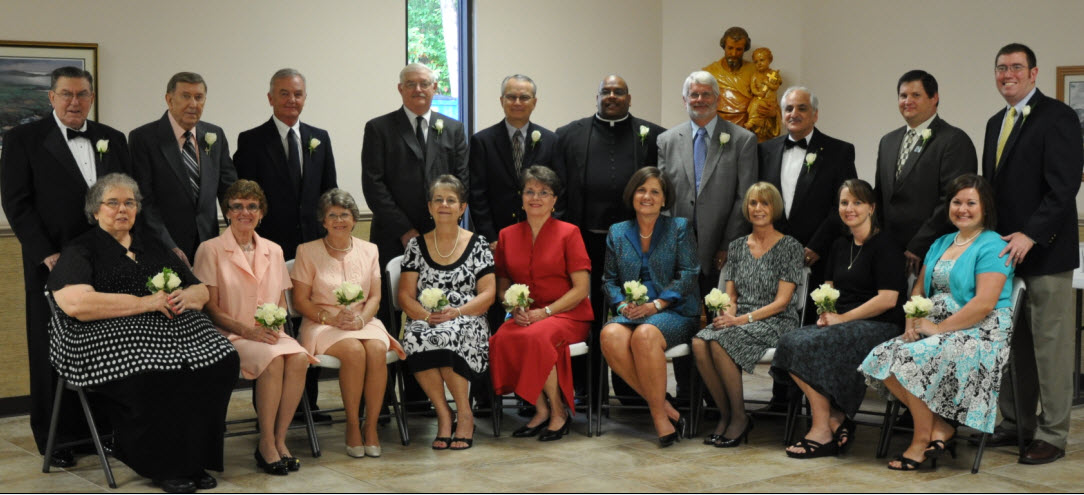 Shown are (l-r) Charles and Peggy Blanchard, 50 years; Greg and Anita Skocik, 45 years; Robert and Anita Dempsey, 45 years; Bryant and Vita Collins, 45 years; Louis and Sharon Slovensky, 35 years; Father Huguley; Eddy and Doris Moody, 35 years; Louis and Brenda Muro, 35 years; Brian and Krista Carroll, 10 years; and Stephen and Tonya Von Hagel, 5 years.