St. Patrick Knights of Columbus Council 10567 installed its new officers at a ceremony on Saturday, July 24 in the Rev. Raymond J. Murrin Family Life Center.
The installation ceremony was performed by District Deputy David Hester. After the ceremony, more than 50 Knights, family members and guests enjoyed food and fellowship.
Shown below (l-r) are Larry Cannon, Chancellor; Mike Muro, Three-Year Trustee; Dale Blanchard, Financial Secretary; David Hester, District Deputy; Father Vernon Huguley, Chaplain and St. Patrick Pastor; Clay Reece, Grand Knight; Brandon Yow, Deputy Grand Knight; and Don Cannon, Outside Guard. Not shown are Ryan Scott, Recorder; Joseph Byrd, Advocate; Gerald Kiker, Warden; Chris Muro, Treasurer; Joe Dush, Inside Guard ; Ronnie Muro, Two-Year Trustee; and Phil Whatley , One-Year Trustee .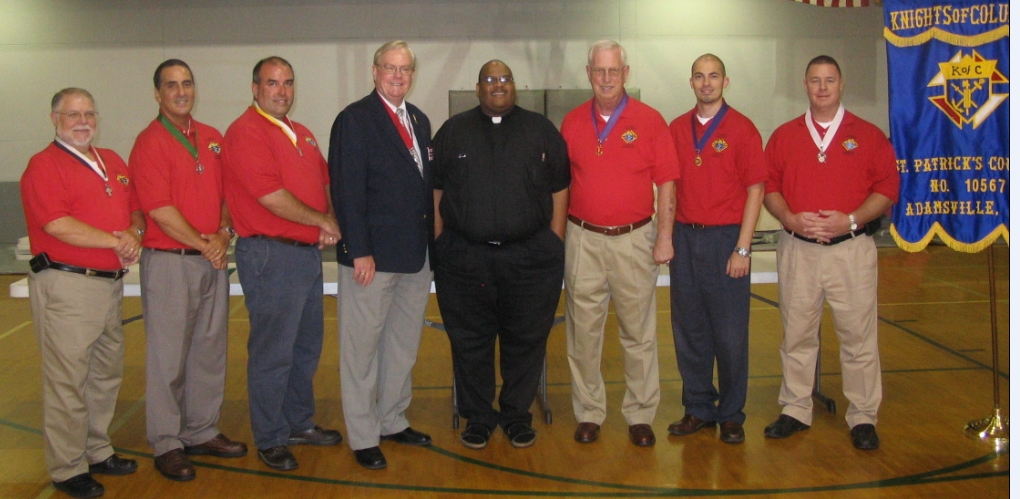 The Knights of Columbus is the world's largest Catholic lay organization. We are celebrated for standing in solidarity with our priests and bishops and for our unwavering support for life. We provide members and their families with volunteer opportunities in service to the Catholic Church, their communities, families, and young people. With more than 1.7 million members in more than 13,000 Councils around the world, the Knights of Columbus annually donates more than $143 million and 68 million hours of service to charitable causes.
For more information on becoming a Knight, send an e-mail to knights@saintpatrickcc.com.