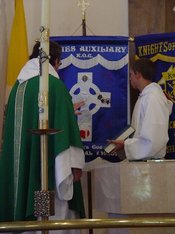 Father Bean Blesses New Banner
The Ladies Auxiliary banner was seen for the first time by the members of the Auxiliary on August 10, 2006. A banner for the Auxiliary was first proposed during Vita Collins' presidency in 2001/2002. The design of the banner has been in the making for the last three to four years. After many changes and much prayer a final design was approved during the 2005/2006 year and Linda Boike was hired to make the banner. The materials were purchased and the banner began to take shape. Joan Marks, Anita Dempsey, and Sara Jean Brooklere met with Linda at various stages to approve the work. Finally, the banner was completed and picked up by Joan Marks and Sara Jean Brooklere in July, 2006.
But the problems were not limited to the banner itself! There were complications with the purchase of the base, pole, Cross and acorns. When the pole was received it was the wrong size. Eventually, with the help of Gaeton Conte the correct size was received and a dowel that would serve as the cross piece was purchased. The dowel was cut to the length needed and the completed piece was assembled and the banner hung. But the saga was not over! The chain holding the cross piece to the pole broke and had to be replaced.
Joan Marks' family made a cover for protection when the banner is not being used.
It has been a true test of our determination and perseverance but we have triumphed. We have a beautiful banner that will serve us well for many years!
Father Gray Bean will dedicate the banner on Knights Sunday, August 19, 2006.