Eleven couples, ranging in years of marriage from 55 to 5, renewed their wedding vows at St. Patrick during the Sunday, June 25 Mass.
Bishop Joseph A. Durick Fourth Degree Assembly 2399 provided an Honor Guard for the occasion and Father Gray Bean conducted the ceremony to renew the vows. The couples' years of marriage ranged from Don and Louise Meadows at 55 years and Bobby and Heather Delander at 5 years.
The list of couples participating is below:

| | |
| --- | --- |
| Mr. and Mrs. | Anniversary Years |
| Don and Louise Meadows | 55 |
| Jim and Mary Frances Milko | 53 |
| Earl and Janet Bean | 50 |
| Tom and Joan Marks | 40 |
| Clay and Pat Reece | 30 |
| Fred and Irene Deason | 30 |
| Tony and Janet Rubino | 25 |
| Larry and Monica Crocker | 25 |
| Weldon and Melody Goode | 20 |
| William and Donna Boone | 7 |
| Bobby and Heather Delander | 5 |
The ceremony was highlighted by beautiful music delivered by the St. Patrick Choir and Dr. James Moore, a guest musician who was visiting from Austria. Dr. Moore sang Love Endures, a special song written by him and based on the beautiful scripture reading from 1 Corinthians. Dr. Moore also accompanied our own Musical Director Janet Rubino in her original music, Worthy Sparrow, which was written by Janet and dedicated to her brother-in-law, Jim Loftin. The entire liturgy was filled with Dr. Moore's music, namely Come to the Feast, Taste and See, Litany of Thanksgiving and Sing to the Glory of God.
A reception was held for the couples in the St. Joseph Hall after Mass.
"I think this program has rapidly become the highlight of our our fraternal year," outgoing Grand Knight Louis J. Muro said. "My wife Brenda said she had chills listening to Dr. Moore's moving music. It was one of the most beautiful Masses I have ever experienced at St. Patrick and we thank Father Gray Bean and all those who helped us put this together."
Click on the more photos link above to view more photos from the historic day.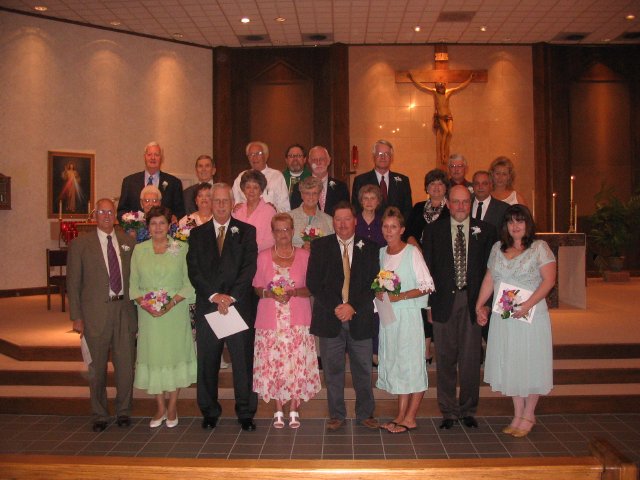 Shown pictured above with Father Gray Bean are the 11 couples who renewed their wedding vows at St. Patrick on Sunday, June 25. A reception followed in the St. Joseph Hall.