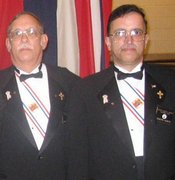 Gaeton and Joseph Conte

St. Patrick parishioners and Knights of Columbus Council 10567 members Gaeton and Joseph Conte have been elected officers of the Serra Club of Birmingham for the 2006 - 2007 year.
Gaeton will serve as President-Elect, which means he will serve a one-year term before becoming President of the group. Joseph will be the Vice-President in charge of Vocations. The new officers will be officially installed on June 20 at Our Lady of Sorrows.
Other newly elected officers are: Tim Hess, President; Jean Holt, Secretary; Polly Rookis, Treasurer; Jane Sweeney, Vice-President Programs; Jude Tombrello, Vice-President Membership; and Ken Lavelle, Vice-President Communications.
The Serra Club is an organization devoted to promoting vocations throughout the Catholic church. For more information on the Serra Club, go to http://serraus.org.