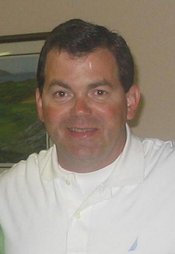 Rob Smith

Rob Smith will celebrate his 10th year as a Knight of Columbus in 2007 and he will do so as Council 10567's Grand Knight.
Rob, who has served most recently as Deputy Grand Knight, was elected unanimously at the June 1 meeting of the Council. His term will begin on July 1, the beginning of the new fraternal year.
A longtime member of St. Patrick, Rob and his wife Bobbie have two children: McCahill and Jeanie.
Also, Chris Muro, a third generation member of Council 10567, was elected to the position of Deputy Grand Knight.
Other Knights elected to offices were Fred Deason, Chancellor; Phil Neely, Recorder; Phil Whatley, Treasurer; Shawn Allen, Advocate; Andrew Brasfield, Warden; Clay Reece, Inside Guard; Dennis Morrow, Outside Guard; and Louis J. Muro, Third Year Trustee.
Holding non-elected positions next year will be Gaeton Conte, Second Year Trustee; Thomas Richardson, First Year Trustee; Father Gray Bean, Chaplain; and Dale Blanchard, Financial Secretary.
Outgoing Grand Knight Louis J. Muro said, "This may be the best group of officers we have ever elected. Rob Smith is a great leader and I look for continued success for our Council in the coming years. God has always blessed us with effective leadership and this year will be no exception."