Five men, including three from St. Patrick, made their First Degree on Sunday, December 27 in the Council 10567 Knights of Columbus room.
Alex Favata, Jeremiah Johnson and Patrick Milko are the newest members of Council 10567. Alex has two children, Emily (7) and Vincent (3). He has worked at Mike Sherrill Auto for 11 years. Jeremiah is the son of longtime Knight Jeff Johnson and his wife Patti. Patrick is a longtime member of St. Patrick who serves as an altar server.
Also making their First Degree were Tom Wooley from St. Paul's Council and Steve Hogeland from Oneonta. Steve was scheduled to be deployed to Iraq on January 2, 2010, and the First Degree was held so that he could become a Knight before deployment.
The Council 10567 First Degree Team performed the ceremony, including Mike Muro (Grand Knight); Phil Troha (Deputy Grand Knight); Phil Slovensky (Chancellor); Charles Blanchard (Warden); Joseph Conte (Inside Guard); Dale Blanchard (Financial Secretary); and Rob smith (Soundman).
Attending the First Degree were Father Vernon Huguley (St. Patrick Pastor and Council 10567 Chaplain); Jack Boggan (District Deputy); Andrew Maenza (Grand Knight Council 9862 at St. Paul's); Tony Hoeppner (Warden, Oneonta Council 13512); and members of St. Patrick Council 10567.
Council 10567 Grand Knight Mike Muro said. "I would like to congratulate five men for becoming a first degree knight at St Patrick on Sunday. Our new knights are Steve Hogeland, Oneonta; Tom Woolley, St Paul's; and Alex Favata, Jeremiah Johnson, and Patrick Milko, all from St Patrick. We were especially honored to have Steve Hogeland as a part of the group, since he was scheduled to be deployed to Iraq on January 2. Our thoughts and prayers are with him and all of our soldiers who are away from their families during the holidays. I would also especially like to thank Father Vernon Huguley for his participation in the First Degree and for his great support."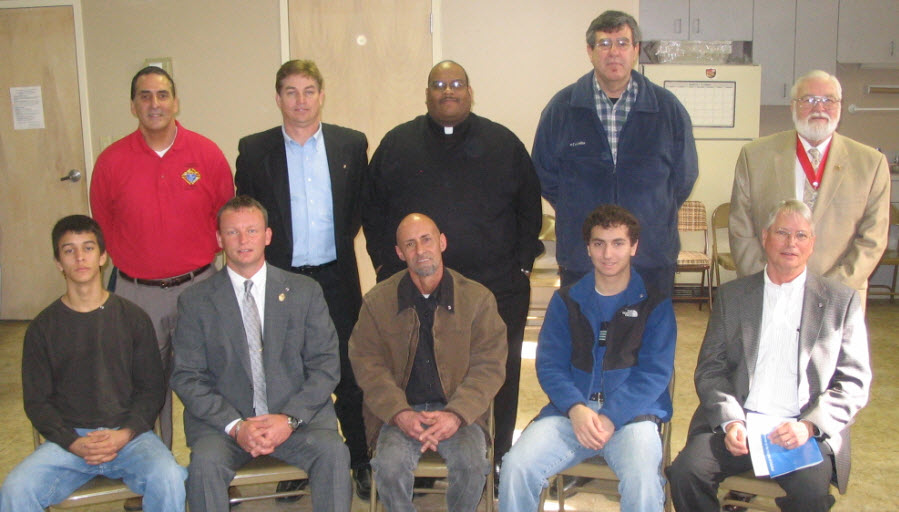 Shown (seated l-r) are Jeremiah Johnson, Steve Hogeland, Alex Favata, Patrick Milko, Tom Woolley, and (standing l-r) Mike Muro, xx, Father Vernon Huguley, Andrew Maenza and Jack Boggan.