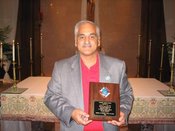 Louis Muro, Colombo Award recipient

On Sunday May 28, Louis J Muro was awarded the Colombo Service Award by St. Patrick Knights of Columbus Council 10567.
The Colombo Award was created in 1995 by the council to recognize a St. Patrick parishioner for many years of dedicated service to the church, the diocese and the community. The award is named in honor of Lou Colombo, one of the founding fathers of Council 10567.
Past award recipients include Catherine Barrett, Benny Bakane, Ronnie Muro, Alice Slatsky, Jane Kiinstler, Phil Slovensky, Larry & Monica Crocker, Donnie Schober and Anthony Brooklere.
Louis Muro has been involved in ministry at St. Patrick for over twenty years. He and his wife, Brenda, served as Renew small group leaders and also as Ministers of Holy Communion. In the early days of SPIRIT, Louis and Brenda took over the Junior High youth group and were part of the Adult team in the formative years. Louis' commitment to youth continued as he became part of the Religious Ed program, including teaching the Confirmation class.
Outside the church Louis was renowned for his intensity as an outstanding coach, first with boy's baseball, then switching to girl's softball after God blessed him with three lovely daughters. That same intensity is displayed daily in his job at United Health Care where he works as a technical writer. Louis is involved in several professional organizations and has been a leader in those organizations..
Louis served three years on the Pastoral Council and has been involved in many, many activities at St. Patrick through the years. Recently he was a driving force in the development of our parish web site, most significantly the Knights of Columbus section, which is outstanding.
He has been a perennial Springfest volunteer as a booth head, set up helper, and committee member. His most notable achievement is the outstanding job as Publicity chairperson in recent years. A great deal of the credit for our recent increase in attendance is due to the efforts of Louis' publicity team. He was also part of the original Springfest Advisory team that, since its inception, has produced the most successful 3 year run in the event's history.
Louis was a charter member of Council 10567 and served as Trustee and in a variety of capacities including chairing the Tootsie Roll Drive (Campaign for People with Intellectual Disabilities) and the Free Throw Competition. Three years ago he was elected Deputy Grand Knight and in June completes an outstanding two year term as Grand Knight. Under his leadership the council has flourished and achieved the greatness once envisioned by the council's founder, Louis N. Muro, the honoree's father.
During Louis' tenure the number of programs and projects taken on by the council has been staggering. Included in that list are the highly successful Dinner Dance; major contributor to the parish website; helping organize and lead the first ever Men's Retreat; ensuring that programs such as the Lenten Service Day, Wedding Vows Renewal, Knight's widows, Scholarship program and many others have continued.
Attendance at meetings is at an all-time high and the council has outgrown its meeting room. The Knights have become the backbone of the parish in supporting our pastor and our church under the leadership and inspiration of Louis J. Muro.
Louis and his wife, Brenda, have been married for over 30 years. They have 3 daughters: Jennifer Baker and her husband Brandon, their children Blake and Abby; Stephanie Allen and her husband Shawn (a former Jr High youth group member), their daughter Mary Beth; and Kathryn.
The Council proudly selected one of its own to honor with the Colombo Award this year. Louis Muro is truly deserving of this high honor..