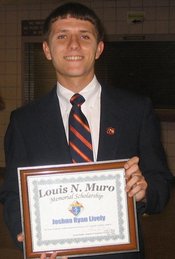 Josh Lively

Joshua Ryan Lively, the Senior Class President at Minor High School, has been selected as the 2006 recipient of the Louis N. Muro Memorial Scholarship, Council 10567 Grand Knight Louis J. Muro has announced.
The scholarship is named in honor of Louis N. Muro, who served as the Council's Charter Grand Knight when it was formed in 1991.
Josh, the son of Ray and Trudy Lively, has a 4.51 grade point average and plans to major in Engineering at Auburn University this fall. At St. Patrick Josh is a member of the SPIRIT Youth Group and serves as lector and usher. He became a First Degree Knight of Columbus just seven days after his 18th birthday and became a Third Degree Knight less than three months later on April 2, 2006.
Josh is the 2006 Mr. Minor at Minor High School and was a member of the Scholar's Bowl team that won the Jefferson County Scholar's Bowl championship. He is a member of the National Honor Society, the National Vocational-Technical Honor Society, the National Art Honor Society and the Science National Honor Society. He has played on the tennis and soccer teams and is a member of the Future Business Leaders of America.
Josh also has been very active in community activities, including raising money for the Red Cross hurricane relief and volunteering at Grace House Ministries, Holy Rosary Catholic Church, Habitat for Humanity, Catholic Center of Concern and the PATH Women's Shelter.
"Josh is one of the most impressive young men we have ever had the privilege to interview as a candidate for this scholarship," said Louis Muro. "He is the type of kid my father would have loved. Louis N. Muro had a thirst for learning until the day he died and Josh has that same desire. He will represent St. Patrick parish well when he goes off to school and he will always be in our prayers. Josh has been a Knight of Columbus just a short time but he has already made an imression on all of us just by the way he conducts himself."
Louis added, "Josh Lively becomes the 27th St. Patrick student who has received scholarship money from us since this award was started in 1995. As a Council, we consider this one of the most important things we do each year and we are very proud of it. Our scholarship recipients are now journalists, accountants, nurses and teachers. They are contributing greatly to our society and have become great ambassadors for St. Patrick."
Louis officially presented the award to Josh at the Minor High School Awards Night on Thursday, May 11, 2006.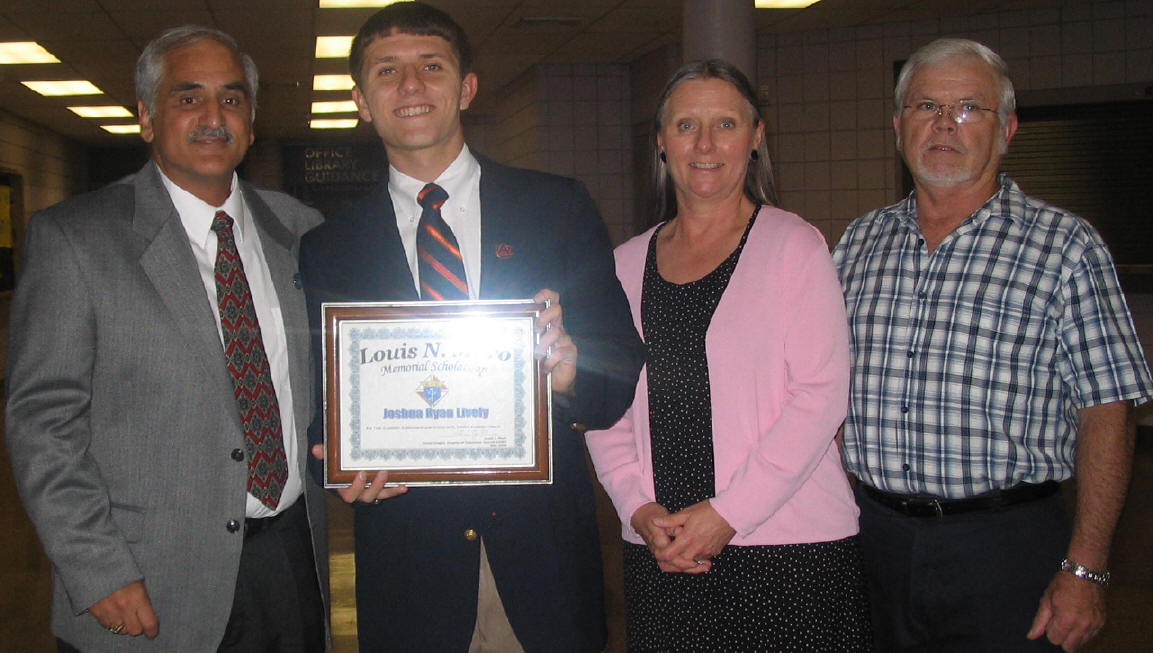 Grand Knight Louis J. Muro with Josh Lively and parents Trudy and Ray Lively