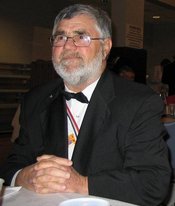 Phil Slovensky Heads First Degree Team

Supreme Knight Carl A. Anderson has officially certified the St. Patrick Council 10567 First Degree Ceremonial team.
In issuing the certification, Anderson said, "St. Patrick Council 10567 has complied with the rules of the Supreme Council by organizing a First Degree Ceremonial Team. Its members have mastered the performance of the First Degree exemplification of Charity. They are to be commended for their proficiency and hereby are awarded official certification to confer the First Degree ceremonial on candidates seeking admission into the Knights of Columbus."
Candidates who wish to become Knights of Columbus go through the First Degree ceremony to be admitted, a degree that is devoted to the principle of Charity.
Council 10567 Past Grand Knight Phil Slovensky is in charge of the Council's First Degree team. Other members are Greg Skocik, Charles Blanchard, Phil Troha, Joseph Conte and Dale Blanchard.
The team members will be officially issued First Degree Team membership cards at the next Council 10567 meeting on June 1.
The Council also received a letter of congratulations from Gary R. Nolan, Supreme Council Director of Ceremonials. "The proficient and professional exemplification of the ceremonials will lead to the long term success of St. Patrick Council 10567," Nolan said. "The spiritually significant ceremonials of the Knights of Columbus date back to our founding by Father Michael J. McGivney, Servant of God. The virtue taught in each lesson is a guide for the life of the member."
The Knights of Columbus is open to all men age 18 or over who are practicing Catholics. If you are interested in becoming a Knight, contact Grand Knight Louis J. Muro or any member of Council 10567.