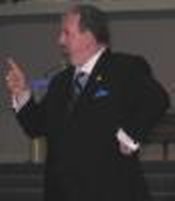 Evangelist Mike Cumbie
A serious question from
Father Bean:
"Have you ever met a Baptist minister, Pentecostal preacher, Episcopalian priest turned Catholic evangelist?"
"No? Well I have and He is coming to our parish to give a three night mission of preaching and teaching! If you miss this you will miss one of the greatest blessings of your life!"
Hear the Inspired preaching and teaching of Catholic Evangelist Mike Cumbie
Monday, May 22, 7:00 PM
Tuesday, May 23, 7:00 PM
Wednesday, May 24, 7:00 PM
Music by ABSOLUTE PRESENCE
SAINT PATRICK CATHOLIC CHURCH
301 SHAMROCK TRIAL, ADAMSVILLE, ALABAMA
205-798-5326 WWW.SAINTPATRICKCC.COM
If you burned out and tired when it comes to your catholic faith…if you have a hard time feeling excited about your relationship with god…if you don't know what to say when protestants ask you about your religion…if you need a spiritual "jump start"…if you have serious questions about the validity of the catholic church and her teachings then
this mission is for you!
Here are what some folks who attended one of Mike's Missions are saying:
"This is the first Mission I have attended for the Duration. I feel a sense of validation for what I am since birth—"Catholic'. I feel a sense of excitement and peace. The talks are inspiring and encouraging to stand up for what I am and what I believe in. And be comfortable to bear witness to my faith. I Loved it all!"
"I got so much out of the mission with Michael Cumbie. These four days taught me so much, more than I've learned in a long time. Even my teens couldn't wait to come every night. I wish he could stay longer."

"I am ashamed to say that I got more or actually learned more about my Catholic faith in the four days Michael was at my parish than I have in all forty years I have been Catholic. He was wonderful, interesting, educating and funny. I loved him and my boys ages 12 and 16 even loved it and looked forward to every night."

"The mission with Michael Cumbie was one of the best missions I have ever attended. It was the first one that I didn't want to end."

"Michael, your talks set my soul on fire. I haven't felt so moved since I made my Cursillo in Sept of 2002. We will keep you in our nightly prayers."

"Michael, please don't ever stop preaching"
Michael's delivery was humorous and fast-paced. He was so interesting and told us so many facts that really started us thinking about our faith and what 'true worship' is." Great apologetics We need more good holy men like him in our Church. The mission as a whole was wonderful!"

"Fantastic! He answered all my questions about our faith, and then some!"

"I am a 'cradle Catholic' and have attended many missions. This mission with Michael Cumbie has been the best I have ever attended."

"The best explanation of purgatory I've ever heard."

"What did I get from Michael's talks? Wow! I learned more from these four nights with Michael Cumbie than I did in my whole CCD classes. Michael taught us more than most of us ever knew about our faith."