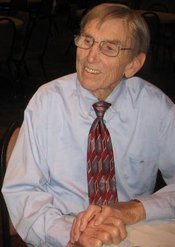 Brother Knight Jim Milko
Knights of Columbus Council 10567 will sponsor its annual Mass of Remembrance on Monday, November 3 at 6:30 p.m. to remember deceased members of Council 10567 and deceased members of the Ladies Auxiliary.
St. Patrick Pastor Father Vernon Huguley, who also serves as Chaplain of Council 10567, will celebrate the Mass and all St. Patrick and St. Stanislaus members are welcome. Also, the Knights would like to issue a special invitation to all family members of our deceased to be present at this special Mass.
Light refreshments will be served following the Mass.
Council 10567 now has 29 deceased Knights. They are Lou Colombo, David Vines, Louis N. Muro, Charles Perryman, Rick Thomas, Art Bobo, Ben Leo, Paul Leonard, Jerome C. Bradley, Steve Sullivan, William O'Neill, Sonny Sorrell, Cruz Wathen, Benny Bakane, Harwell Melton, Albert Duchock, Joe Wallace, Pat Rosato, Paul Grefsheim, Joseph Russo, Steve Sokira, Norman Gugliotta, Jimmy Pender, Earle Canoles, Jake Grainger, Jim Milko, Greg Skocik, Mike Hobe, and Steve McArdle.
Deceased members of the Ladies Auxiliary are Eileen Smith, Mary Carol Martin, Camille Von Hagel, Freddie Canoles, Louise Meadows, C.D. Day, Barbara Rucker, and Catherine Barrett.
Eternal rest grant unto them, O Lord,
and let perpetual light shine upon them.
May the souls of the faithful departed,
through the mercy of God, rest in peace.
Amen.