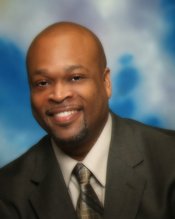 W. Clifford Petty
W. Clifford Petty, Award-winning Gospel Singer, Composer, Director, Recording Artist with World Library Publications and more titles than you can imagine, held a mini-workshop at St. Patrick's on October 9 and 10, 2009. Choir members, cantors, music lovers, and instrumentalists from the Parish and visitors from parishes in Bessemer and Hoover, joined musical forces to become more familiar with songs and rhythms to enhance what they already do so well.......Praise God through SONG !!
Cliff presented his own compositions including settings of "Glory to God" and "Lord Have Mercy" as well as traditional Gospel and African American hymns during the sessions and encouraged singers to step out and "pray"the songs. Friday evenings session began with a light dinner prepared by Choir members and then the music began. While a few were a bit "tense" to get started, a shoulder massage and some vocal warm-up exercises got everyone in singing spirit. He led voices through beautifully arranged SATB parts while directing from the piano, which got a work-out itself!
Saturday morning the group returned still powerfully moved by the new-learned music repertoire. After lunch and dessert, compliment and culinary talent of Pastor, Father Vernon Huguley, music was rehearsed for the 4:00 p.m. Liturgy. The parishioners attending Mass received incredible blessings by hearing Cliff's amazing voice, an instrument in itself, as well as his beautiful accompaniment on piano. He composed the responsorial Psalm setting for the days readings and dedicated it to Saint Patrick Catholic Church. The Parish looks forward to having him return in the future to share his gifts of music!