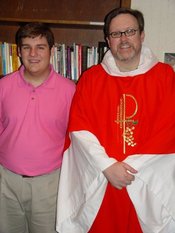 Michael is shown here with his pastor, Fr. Gray Bean
"How would you specifically apply dialogue, justice, and education for forgiveness in addressing terrorism in the aftermath of 9/11?"
The Pope John II Cultural Center located in Washington, D.C. posed this question as the topic for their 2006 National Essay Contest.
Michael Plan, II, a member of St. Patrick Catholic Church in Adamsville and a student at the International Baccalaurate School in Irondale, Alabama, decided to enter the contest. Michael submitted his essay late last year along with 12th grade students from all over the United States, its territories and possessions.
And now Michael is one of 10 finalists who will receive an all-expense paid trip to Washington later this month to defend his essay in front of a distinguished panel of judges. Judging is based on a point system which includes knowledge about the topic (40 points); research (20 points); organization and originality in thinking (20 points); and style and grammar (20 points).
The 10 finalists are guaranteed $1,000 in Scholarship money and the student who is judged as the winner will win a total of $10,000 in scholarship money. The rules stipulate that each student be sponsored by a school or church and essays submitted contain between 1,200 and 1,800 words. Criteria in judging the discourse consists of content (50%) and presentation and ability to articulate one's position (50%).
The Pope John Paul II Cultural Center fosters a greater understanding among people of different religious, cultural and ethnic backgrounds through art, cultural programs, dialogue and study. It aims to cultivate a society that is united by the Gospel message of justice, responsibility, peace and compassion. The essay contest invites young people to express their thoughts on important spiritual issues while becoming involved in the mission of the Pope John Paul II Cultural Center.
Michael is a lifelong member of St. Patrick's and is the son of Mike and Pam Plan. He is an altar server for the parish. After graduation from high school, Michael plans to attend Auburn University and pursuing a career in International Business.
You can click on the link under Related Documents above to read the full text of Michael's essay.