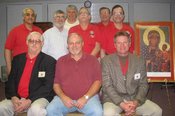 Rick Smith and Fellow Knights

Rick Smith, a resident of Fultondale and father of four, is the latest new member of Knights of Columbus Council 10567.
Rick and his wife Anne Marie are longtime St. Patrick parishioners. Their children are Julie, 25; Steve, 24; Matt, 15; and Mike, 12.
Council 10567's First Degree team conducted the ceremony and on hand were special guests State Deputy Bryant Collins and District Deputy Ray Lewis. First Degree team members were Louis Muro, Gaeton Conte, Joseph Conte, Phil Troha, Phil Slovenksy and Rob Smith.
"This is another great day for our Council," said Grand Knight Louis J. Muro. "Rick is an outstanding addition and he and his wife Anne Marie have a great family and are great members of St. Patrick."