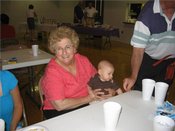 Family Night will be Fun for ALL Generations
In conjunction with its annual "Family Week" that spotlights the importance of Catholic families, Knights of Columbus Council 10567 and the Ladies Auxiliary will sponsor their second annual Family Night on Saturday, August 8.
The food and festivities are open to all St. Patrick parishioners and their family members.
Food (hamburgers, hot dogs, chips, dessert) will be served in the St. Joseph Hall from 5 p.m. to 7 p.m. After dinner adults can play bingo and try to win cash prizes while the children can go to the Family Life Center for supervised games. A fireworks display from 8 p.m. to 8:30 p.m. will close out the night. Everyone is asked to please park in the lower lot. For more information, contact Grand Knight Mike Muro or any Knight of Columbus.
Council 10567 Grand Knight Mike Muro said, "Our Council 10567 members and our Ladies Auxiliary are looking forward to joining our church families on August 8th for a night of food, bingo, and fireworks. This should be a great way to kick off our Knights of Columbus Family Week (August 8 -16) by bringing our families together, talking, and enjoying each other's company and fellowship."