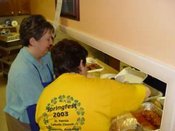 Volunteer Spirit Exemplifies Springfest

Plans are underway for Springfest, the most anticipated annual event in western Jefferson County. This year's Springfest promises to be bigger, better and more enjoyable than the 20 previous extravaganzas. Check back here frequently for updates.
The first Sunday in May means many things to many people. But for those who have visited St. Patrick Catholic Church on that date for the last 20 years, the date is forever etched in their collective memories.
The first Sunday in May means one thing and one thing only -- Springfest -- that glorious day of fun, food and fellowship For 20 years now, Springfest has been the annual fund raiser for St. Patrick and for 20 years running it has become more and more successful.
That string will reach 21 on Sunday, May 7 when Springfest is celebrated once again. Listed below are some important news items and notes.
Chairpersons Rob and Bobbie Smith Hard at Work


Plans for this year's events are well underway. Rob and Bobbie Smith have graciously taken on the role of Chairpersons and they have been working behind the scenes to make sure the plan is in place. The husband and wife team served as co-chairpersons last year and are very well prepared for the undertaking.
Volunteers Needed In Every Area
As always, volunteers are needed and needed in every area of Springfest. To volunteer, sign up at church or contact Rob and Bobbie directly.
10-Plus Club Members
Sell 10 books of tickets and receive one free book. Here are the current members of the 10-Plus Club:
Dale and Jane Blanchard
Danny and Carolyn Bradley
Dee and Pauline Brasfield
Martin and Gena Fadlevich
Ronnie and Debbie Muro
Clay and Pat Reece
Father Gray Bean
Joe and Mary Dush
Frank Schober
Gaeton Conte
20-Plus Club Members
Join the 20-Plus Club by selling 20 or more books of tickets before April 24. For your hard work you will receive One Free Parking Pass for the day of Springfest and you will be entered into a separate drawing for a Weekend at the Beach. Here are the current members of the 20-Plus Club:
Father Gray Bean
50/50 Club Fundraiser Tickets on Sale Now
Our annual Springfest 50/50 Club fundraiser is under way, and we hope you will join the club. We're looking for 200 people that will sign up with a $20 donation to support Springfest 2006. One-half (that's 50 percent) of the donations will be given back to ticket holders at the St. Patrick's Day dinner on March 17th. The other 50 percent provides much needed start-up funds for Springfest. If all tickets are sold, that means a total of $2000 will be raffled off and $2000 will go to Springfest. The top raffle prize will be $500 and you will have 22 different chances to win money! To purchase a ticket, look for one of our 20 team captains after Mass or contact Ronnie Muro at 798-4821. Springfest 2006 thanks you for your support.
What is Springfest?
Springfest represents many things to the community of St. Patrick Catholic Church in Adamsville.
It is not just a fundraiser but a "fun" raiser. It is a time when the members of the church join together to put on a wonderful festival with games, food and fun. Through Springfest, parishioners come together for the common good of the church and the community. Many people in the Birmingham area look forward to the opportunity to join us for good food and family fun on the church grounds.
Springfest is held each year on the first Sunday of May. The day features delicious home-made food in our dining hall. Outside there is live entertainment, lots of inflatable attractions for the children, the cake booth and other games for adults. In the Family Life Center is our huge 'bargain basement' with garage sale type items and "Shamrock Sales" with crafts and new items. Just past the Bargain Basement is Bingo which is always fun.
The day concludes with a live auction of all kinds of items, followed by the big drawing for a $3000 grand prize. Chances are available for a one dollar donation.
Springfest - an event which depicts St. Patrick's people at their finest. The hospitality, the food, the surroundings are all first class. Plan to be there on SUNDAY, MAY 7.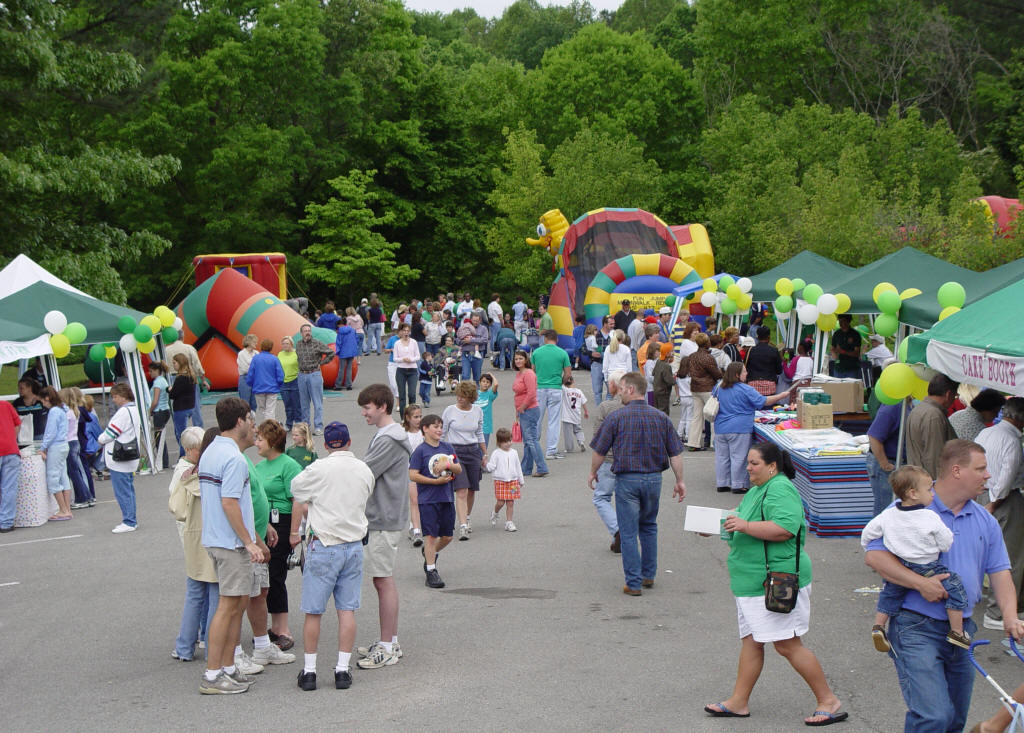 Food, Games, Fun and Cash Prizes -- Springfest Has It All