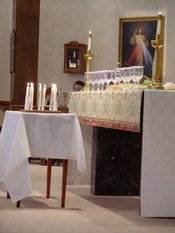 First Communion
On the evening of April 25, 2009, five beautiful children were welcomed more fully into the Church, by receiving their First Holy Communion.
Hanna C.
Brandon G.
Malia G.
Hannah S.
April V.
The children entered with the processional, and lead the Mass with their beautiful readings and offertory. Father Vernon Huguley was the celebrant and invited the children to the altar, to witness more closely the consecration of the bread and wine. The children, along with their families, then received the body and blood of Jesus Christ for the first time. The Mass concluded with the children singing Jesus Loves Me and reciting a children's prayer. The Families lit their child's First Communion candle from the Paschal Candle and recited a parent's prayer. A lovely reception was held in the St. Joseph Hall after Mass.
A special thanks to all the parishioners who came to support our little angels.
Also special thanks to the following for their time and talent:
To our parents, families, & teachers for passing on the Faith.
To Fr. Vernon for bringing the Sacrament into our midst.
To Janet Rubino & Doris Moody for their inspiring music.
To Lisa Smith for the lovely flowers.
To Pegi Gilmore and Catherine Barrett for their assistance, direction, and the programs.
To Rose Taylor and Anita Skocik for their assistance and donations to the First Communion Class.
To Shirley Goolsby, Debbie Brasher, Sandy Vonhagel, Donnie Schober, Monica and Larry Crocker, for assisting with the wonderful reception.
To Sr. Maura Sampson & Sr. Mary Humphries for their prayers and gifts from afar.
May God bless and keep these wonderful children on their continued journey of faith.