Knights of Columbus Council 10567 kicked off 2006 in a big way on Thursday, January 19 by welcoming three new members to its membership rolls.
Joshua Lively, Robert Newman and Juan Vicente went through the First Degree Ceremony in the Knights of Columbus room as fellow Council members looked on with guests District Deputy Ray Lewis and Field Agent John Imhof.
"This is another great, landmark moment for our Council," said Grand Knight Louis J. Muro. "These three men will be welcome additions to a great Council and we're looking forward to them getting involved and doing great service."
Josh Lively is a senior at Minor High School who is looking forward to going off to college this fall. He has been an active participant at St. Patrick and enjoys tennis, fishing, car shows, football and Ford Mustangs. Josh was proposed to the Council by brother Knight John Sokira.
Robert Newman has been married to his wife Kathy since 1983. He has been a specialist for 25 years in refinishing chrome plate and stainless trim on antique automobiles. In his spare time, Robert enjoys restoring motorcycles and automobiles, copywriting and playing the piano. He was proposed to the Council by Sammy Owen.
Juan Vicente and his wife Cvescencia have five children: Norma, 10; Fatima, 8; April, 4; Alan, 2; and Juan Jr., 1. Juan was also proposed by Sammy Owen.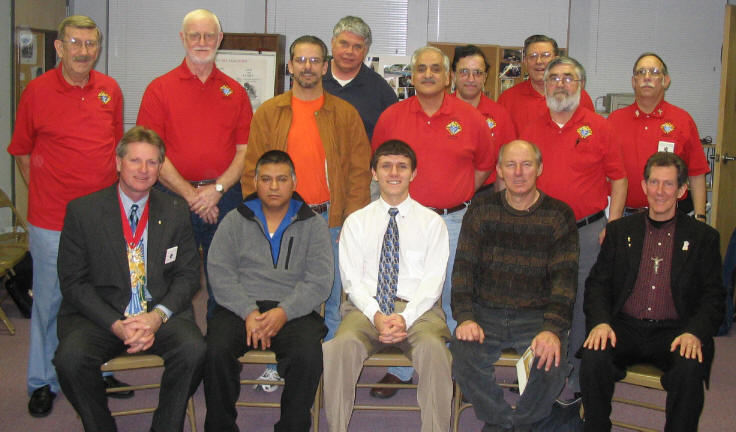 Knights Welcome New Members - Shown seated (l-r) are District Deputy Ray Lewis, Juan Vicente, Josh Lively, Robert Newman and Field Agent John Imhof. Shown on the back row (l-r) are Greg Skocik, Fred Deason, Sammy Owen, Phil Troha, Louis J. Muro, Joseph Conte, Charles Blanchard, Phil Slovensky and Gaeton Conte.

The Council 10567 First Degree team conducted the ceremony. The First Degree team consists of Greg Skocik as Grand Knight; Phil Troha as Deputy Grand Knight; Phil Slovensky as Chancellor; Gaeton Conte as Financial Secretary; Charles Blanchard as Warden; and Joseph Conte as Inside Guard.
Louis said, "It was great to see our District Deputy (Ray Lewis) at St. Patrick and I really appreciate John Imhof coming to talk to the new members. I encourage all men to get involved in the Knights of Columbus and our Council. It has been a great experience for me and I think all my brother Knights would say the same."