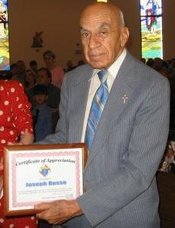 Mr. Joseph Russo
St. Patrick parishioner Mr. Joseph Russo has passed away.
Known affectionately as "The Candy Man" and "Uncle Joe" to many of us, Mr. Russo was 88-years-old at the time of his death. A World War II hero, Joseph Russo was a soldier in General George S. Patton's Army and was part of the infamous D-Day invasion. He earned the Purple Heart among many other honors relating to his military service.
Mr. Russo became a member of St. Patrick Knights of Columbus Council 10567 on February 18, 1992 and made his Second and Third degrees on February 23, 1992.
Mr. Russo's wake service will be Friday night from 5 p.m. to 7 p.m. at Elmwood Chapel. There will be a Rosary at 7 p.m. The funeral will be Saturday at 3 p.m.
Eternal rest grant unto Him, O Lord, and let perpetual light shine upon Him. May the souls of the faithful departed, through the mercy of God, rest in peace. Amen.