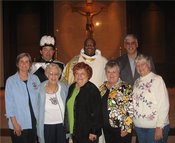 Knights Remember
St. Patrick Knights of Columbus Council 10567 held a memorial Mass on Thursday, November 13 to remember its 16 deceased Knights.
Click here to view a wonderful photo video of the night's activities. (NOTE: Please allow ample time for download of this video.)
Father Vernon Huguley, Council 10567 Chaplain and St. Patrick Pastor, celebrated the Mass and called on the participants to share their memories about those great men who are no longer with us. After Holy Eucharist, a candle was lit and a bell rung for each of the 16 deceased Knights.
Widows of deceased Knights in attendance were Thomasine Wathen, Lois Bradley, Josephine Melton, Pauline Vines and Elizabeth Duchock.
Council 10567 Grand Knight Ronnie Muro said, "The Knights of Columbus was originally formed to give aid and support to its members and families, especially when experiencing the loss of a loved one. In that spirit, we must always honor the memories of those beloved Knights who have left us. What better way to honor them than by celebrating Mass in their memory and with their families."
Below are the 16 deceased Knights of Council 10567:
Louis Anthony Colombo, 66, March 5, 1994
David Vines, 70, June 10, 1995
Louis N. Muro, 78, February 22, 1996
Charlie L. Perryman, 66, June 16, 1996
Rick Thomas, 36, August 1, 1996
Arthell T. "Art" Bobo, 67, October 1, 1999
Ben Leo, 82, May 27, 2001.
Paul Felix Leonard, 90, March 9, 2002
Jerome C. "J. C." Bradley, 56, July 29, 2004
Steve Sullivan, 82, August 18, 2004.
William "Bill" O'Neill, 69, April 13, 2005
Oscar Grayson "Sonny" Sorrell, 58, May 2, 2005
Claude Cruz Wathen III, 66, August 21, 2006
Benny C. Bakane, 81, March 25, 2007
Mel Melton, 78, April 22, 2007
Albert S. Duchock, 83, June 12, 2007