The Knights of Columbus Supreme Council has launched a new Web site designed to guide men to a better life during their journey through fatherhood.
The Fathers for Good Web site seeks to guide men in the great adventure of fatherhood and provide the resources, tools and encouragement they need to become the fathers they are meant to be.
St. Patrick Council 10567 Grand Knight Ronnie Muro proudly endorsed the Web site. "Fathers for Good is a wonderful initiative by the Knights of Columbus to help build better fathers and husbands," the Grand Knight said. "The Web site has sections dealing with spirituality and the challenges of fatherhood which should be especially meaningful. I encourage all our Knights and all fathers to visit the Web site and sign up for email notifications to stay in touch with updated information."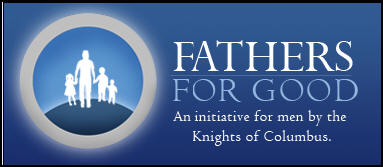 So why is this Web site important?
Fathers for Good offers expert advice on the journey to becoming authentic Fathers for Good.
By taking the time, making the effort, going the extra mile, you can make all the difference in the world for your family. While strong arms are still needed, a man's protection must go beyond the physical. A father should keep harmful influences away from his family.
The greatest gift a father can give his children is to love their mother. Spousal love is a firm commitment to always think, speak and act for the good of your wife.
A FATHER IS ... Protector ... Involved ... Loving Husband ... AND SO MUCH MORE.
Whether you are a seasoned dad, a new dad, a dad to be, or a single guy wanting to know more about fatherhood, this website is for you.
There is a role only a father can fill and gifts only a father can give. In a culture that often does not favor fatherhood or masculine virtue, we wish to highlight the unique contributions of men, husbands and fathers. The world would be lacking without them.
We also welcome wives who want to support their husbands in becoming the best fathers they can be.
On this Web site, you will find:
• Information
• Inspiration
• Expert Advice
• Answers to your Questions
• Interactive Features
• A Forum for Your Stories
• Living the Fatherhood Vocation
• Ways to Strengthen Your Marriage
• St. Joseph Booklet Series
A FATHER IS ... a work in progress. Indeed, a dad's work is never done -- in what he can learn from his family and what he can teach his children, in the sacrifices he can make and the rich rewards he can be given, in the love he can live out and also receive.
A FATHER IS ... called by God the Father. This is the vocation that is the foundation of fatherhood. Of course, no earthly father will be like "our Father who art in heaven," but God does give certain graces to fathers who seek him out and follow his way.
A FATHER IS ... an ordinary man who is called and equipped to do extraordinary things from day to day - work, provide, protect, pray, get involved with his family and be there as an example for his children and faithful to his wife.
ABOUT THE KNIGHTS OF COLUMBUS
The Knights of Columbus is the world's largest Catholic family fraternal organization with 1.75 million members throughout the United States, Canada, Mexico, the Philippines, Poland and a number of other countries.
Annually, Knights of Columbus donate more than $143 million to charity and volunteer more than 64 million hours to their parishes and communities. The organization was founded in 1882 by the Venerable Servant of God Father Michael J. McGivney, whose cause for sainthood is being considered by the Vatican.
For more information on becoming a Knight, send an e-mail to knights@saintpatrickcc.com.