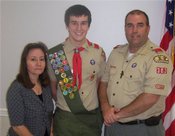 Jeremy Blanchard with Parents Dale and Jane Blanchard
Minor High School graduate and lifelong St. Patrick parishioner Jeremy Blanchard has been awarded the Louis N. Muro Memorial Scholarship for 2008.
The son of Dale and Jane Blanchard, Jeremy is a former Chief Squire of the Columbian Squires who became a Knight of Columbus earlier this year. He has served St. Patrick as lector, usher and altar server. A longtime member of the SPIRIT Youth group, he recently was a recipient of the Alpha Award, given each year to students in SPIRIT who have provided exemplary service and dedication as Catholic youth over the years.
At Minor Jeremy was active in the Students Against Destructive Decisions (SADD) and was a member of the Science Honor Society and the National Vocational Honor Society. He finished with a 3.6 GPA.
Earlier this year Jeremy became an Eagle Scout in Boys Scout Troop 303.
Jeremy is also the grandson of St. Patrick parishioners Charles and Peggy Blanchard. He has two brothers (Doug and Jeffrey) and one sister (Anna).
Congratulations to Jeremy Blanchard for being a role model for all young people to follow and for earning this scholarship.
The Louis N. Muro Memorial Scholarship is named in honor of the late Louis N. Muro, Council 10567 Charter Grand Knight and a man who believed in striving for academic achievement and doing great service to church.