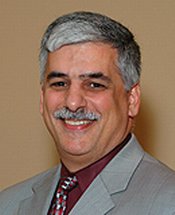 Ronnie Muro
Ronnie Muro has been elected Grand Knight of St. Patrick Knights of Columbus Council 10567 for fraternal year 2008 - 2009.
Ronnie becomes the 15th Grand Knight of the Council that was founded on March 17, 1991. He succeeds his son Chris as Grand Knight.
"I'm excited and looking forward to the challenge of leading the Knights over the next year," Ronnie said. "Our council continues to grow and flourish thanks to an incredible group of men. Daddy would be so proud to see how what our council has become. It's an honor and a privilege for me to be associated with these great men. I would like to salute my son, Chris, for a great job over the past year. Seeing the enthusiasm of the 42 men at our last meeting is a fitting tribute to his outstanding leadership over the past year."
Other officers elected were:
Phil Neely, Deputy Grand Knight
Mike Champ, Chancellor
Greg Brasher, Recorder
Shawn Allen, Advocate
Clay Reece, Warden
Phil Whatley, Treasurer
Andrew Brasfield, Inside Guard
Joe Dush, Outside Guard
The Council Board of Trustees is also in place for the new fraternal year. Chris Muro was elected Third Year Trustee and will serve with returning members Rob Smith (Second year Trustee) and Louis J. Muro (First Year Trustee) on the Board of Trustees. Dale Blanchard will continue as the Council's Financial Secretary.
Show below is a list of all previous Grand Knights of Council 10567.
Grand Knight

Fraternal Year

Louis N. Muro

Charter Grand Knight

John T. Majerik

1991 - 1992

Leo Russo

1992 - 1993
1993 - 1994

Lee Gunnin

1994 - 1995

Bryant Collins

1995 - 1996

Phil Slovensky

1996 - 1997

Tom Marks

1997 - 1998
1998 - 1999

Mike Muro

1999 - 2000

Dale Blanchard

2000 - 2001

Jerome C. Bradley

2001 - 2002

Tom Richardson

2002 - 2003
2003 - 2004

Louis J. Muro

2004 - 2005
2005 - 2006

Rob Smith

2006 - 2007

Chris Muro

2007 - 2008

Ronnie Muro

2008 - 2009