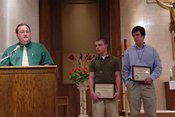 From left, St. Patrick Youth Minister Kevin Whitaker presents the 2008 ALPHA Award to Matt Smith and Jeremy Blanchard

St. Patrick Parish and SPIRIT congratulate Jeremy Blanchard and Matt Smith as the 2008 recipients of the ALPHA Award. Presented annually, the ALPHA Award Acknowleges Leadership Perseverance Hard work and Accomplishments. Jeremy is a graduate of Minor High School, and Matt graduated from Sumiton Christian High School.

The ALPHA Award medal and certificate given to Jeremy and Matt capture the essence of the story of the meeting of Jesus with the two young people on the road to Emmaus; this story vividly illustrates the dynamics of youth ministry: the two young travelers resemble the youth of today - on the move, absorbed by their own surroundings and problems, often confused. In this state, they did not recognize who Jesus was. And He joined them, falling in step with them, as those who work with youth also do.

They sensed His sincerity and concern and eagerly shared with Him the details of the events that crushed their hopes about the Messiah. Jesus listened to them carefully and opened their eyes to the deeper meaning of what they had experienced. But it was not until they had shared a meal together that they realized who He was ... and then He vanished, leaving them to return to their friends to share the amazing news!

Graduation from high school is the beginning of a new journey for our young people - the ALPHA Award presents an opportunity to recognize their achievements, spirituality, and integrity, and also serves as an incentive to continue this good work as they begin their future.

Jeremy and Matt both have been involved in SPIRIT for the last seven years, having participated in practically every regular SPIRIT event - SPIRIT Youth Masses, monthly meetings, Lock-Ins and retreats, World Youth Day activities, Buds & Blooms, the National Catholic Youth Conference, Fruit Basket Sales and Assembly, and Diocesan Work Camp.

Matt has been faithful as an usher and gift bearer for years, and Jeremy has served as usher, altar server, lector, and gift bearer, and both are involved with the Columbian Squires. Jeremy is also a Knight of Columbus.

Matt and Jeremy share many accomplishments and they also have additional accolades they can call their own.

At Sumiton Christian, Matt was involved in the Art Club, the golf team, the school newspaper and school broadcasting. He was on the staff of the school annual, and graduated with an Advanced Academic Diploma.

Among Jeremy's individual accomplishments are serving as president of Future Career and Community Leaders of America, and he was named outstanding member of that group. Jeremy has been chaplain of Students Against Destructive Decisions, and he has served on the Heritage Panel.

Jeremy has been tapped as a member of the National Honor Society, the National Junior Honor Society, the National Science Honor Society, the National Vocational/Technical Honor Society, and the National Art Honor Society. Jeremy was named outstanding culinary arts student, and recently earned the rank of Eagle Scout in the Boy Scouts of America. Most significantly, perhaps, Jeremy was named recipient of the WC Petty Good Citizen Award, one of the top six awards at Minor High School, and Jeremy is the third St. Patrick Parishioner to receive this award.

Matt and Jeremy both strongly believe in their Catholic Faith. Matt has answered questions about it and has defended it when necessary. And Jeremy wants to know more ... he has regularly attended the Bible study classes held just before Mass each Sunday morning.

This fall, Jeremy will attend Jefferson State Community College and plans to major in culinary arts, and Matt will attend Bevell State Community College. We wish both young men well and congratulate them on all their achievements!