It was a historic milestone in the 17-year history of St. Patrick Knights of Columbus Council 10567.
On Monday, May 12, 2008, Council 10567 members watched as an incredible nine new members went through the First Degree ceremony in the Knights of Columbus room at St. Patrick.
The addition of nine members represents an unprecedented six percent increase in Council 10567 membership in one night and is a testament to the leadership of Grand Knight Chris Muro, Council Officers, Committee Directors and the great involvement of Council members. It is also a testament to our great Pastor and Chaplain, Father Gray Bean, who has our parish more thriving and more active than it's ever been.

Congratulations to these newest members of Council 10567: Tim Naish, Robert Hendrix, John Schnatz, Dwight Ingram, Brian Ingram, Brad Thompson, Mark Bradley, Mark McPherson and Bobby Black.

"Having such a large group of men join the Knights of Columbus is one of the wonderful fruits of our labor of service," said Council 10567 Grand Knight Chris Muro. "This milestone event will only further energize our council in continuing our service to our church, our community, and our family. I congratulate this outstanding group of new Knights."
Also taking part in the district-wide First Degree at St. Patrick were members from two other councils in the state. They were Evan Haupt (Council 5597, St. Theresa, Leeds) John Bettis and Mike Gregory (Council 9862, St. Paul.)
The outstanding Council 10567 First Degree team deserves praise for another stellar job. Members of the team were Phil Slovensky, Charles Blanchard, Joseph Conte, Dale Blanchard, Chris Muro, Phil Troha and Rob Smith.

Outside dignitaries present were District Deputy Jack Boggan, Grand Knight 9862 Bob Collier and Field Agent James Yaskowich.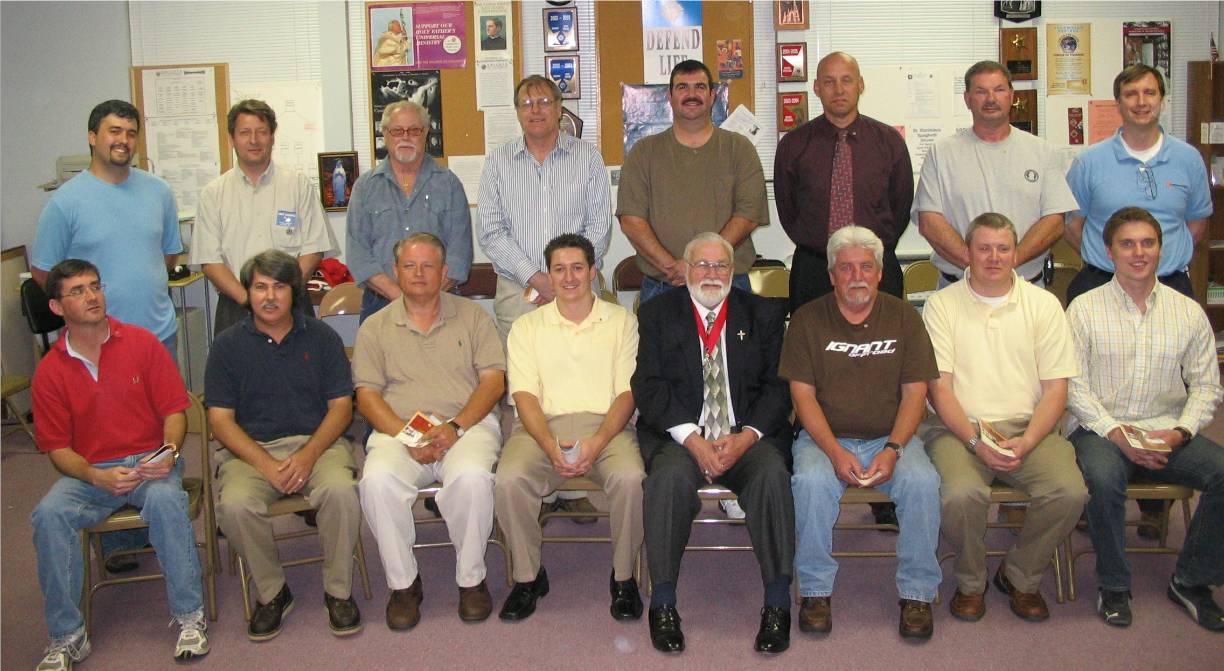 Shown front row (l-r) are Robert Hendrix, Mark McPherson, Tim Naish, Brad Thompson, District Deputy Jack Boggan, Dwight Ingram, Brian Ingram, Evan Haupt and back row (l-r) Council 10567 Grand Knight Chris Muro, Knights of Columbus Field Agent James Yaskowich, John Schnatz, John Bettis, Mark Bradley, Mike Gregory, Bobby Black and Council 9862 Grand Knight Bob Collier.