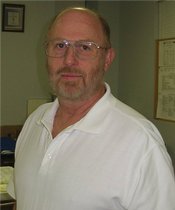 Jimmy Pender
James "Jimmy" Donald Pender was born on August 13, 1949 and passed away at the age of 62 on October 20, 2011.
Jimmy, who joined the Knights of Columbus and Council 10567 on November 5, 2008, was retired from U.S. Steel and he and his wife Margaret (Majerik) were married for 42 years. They have two children: Amye (Robert) Mayo, and Andy (Wendy) Pender. At the time of his death Jimmy was survived by three grandchildren: Kendall Mayo, Catherine Pender and Dylan Pender; his parents, Don and Grace Pender; a brother, Robyn (Maria) Pender; a sister, Becky (Craig) Ellis; and numerous nieces and a nephew.
Visitation for Jimmy was held on Saturday October 22, 2011 at St. Patrick.
Editor's Note: We welcome any contributions to this page from any friends or family of our brother Knight Jimmy Pender. If you were one of the many who celebrated the life of Mr. Pender and you have any comments or stories about Jimmy that you would like to share, please e-mail Louis J. Muro. We also welcome any photos of Jimmy that you might have. To send an e-mail to Mr. Muro to submit comments, click here to go directly to his contact page.