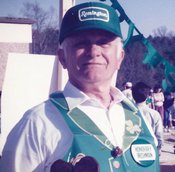 Norman Gugliotta
Norman Gugliotta died on August 8, 2009 at the age of 89.
Mr. Gugliotta joined the Knights of Columbus as a charter member of Council 10567 on March 3, 1991. He made his second and third degrees on April 7, 1991.
A resident of Wetumpka, Alabama when he passed away, Mr. Gugliotta was preceded in death by the love of his life, Jean Gugliotta. He was a loving father of four children, Anthonette Gugliotta, Rosemary Mobley (husband Donald), Samuel T. Gugliotta (wife, Ruth), and Norman Gugliotta, Jr.; brother Joseph Gugliotta; and the grandfather of Josh Gugliotta, Christopher T. Light, and Jennie Marie Gugliotta. He also had several nieces and nephews.
Norman Gugliotta was a veteran of World War II who proudly served our country in the First Marine Division stationed in the Pacific Theater, (Guadalcanal). Mr. Gugliotta was active in his church and community. Before moving to Wetumpka, AL, he was a founding member of St. Patrick and a member of the Sunshine Club. He was a founding member of Graysville Gun Club. He retired as a master craftsman brick mason from US Steel. Honorary pallbearers were Joseph Gugliotta, Josh Gugliotta, Christopher T. Light, Samuel J. Gugliotta, Anthony Tamburello and Samuel C. Gugliotta. A funeral Mass was held on Wednesday, August 12, 2009 at St. Bede's Catholic Church, Montgomery, said by Rev. David Carrucci, Pastor. A graveside service was held at Elmwood Cemetery in Birmingham officiated by St. Patrick Pastor Rev. Vernon Huguley.
Editor's Note: We welcome any contributions to this page from any friends or family of our brother Knight Norman Gugliotta. If you were one of the many who celebrated the life of Mr. Gugliotta and you have any comments or stories about Norman that you would like to share, please e-mail Louis J. Muro. We also welcome any photos of Norman that you might have. To send an e-mail to Mr. Muro to submit comments, click here to go directly to his contact page.