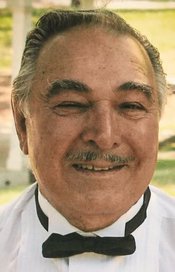 Pat Rosato
Brother Knight Pat Rosato passed away on Friday, December 26, 2008 at the age of 82. He and his dear wife Ruby, with whom he shared 64 years of marriage, were longtime members of St. Patrick Catholic Church and well loved by all.
A loving and devoted family man who had a great love of cooking and sharing food with others, Pat Rosato became a charter member of St. Patrick Knights of Coulumbus Council in March 1991. At the time of his death survivors included his son, Pasco J. Rosato Jr., (Vicky); daughters, Lesa Rosato, Regina Rosato McDonald (James), and Christina Rosato Ruthven (Martin). He left behind 12 grandchildren and eight great-grand children. He was also survived by his sisters, Josephine Vizzinia (Paul) and Rosalee Messina (Leon); and sister-in-law, Bettie Rosato.
Editor's Note: We welcome any contributions to this page from any friends or family of our brother Knight Pat Rosato. If you were one of the many who celebrated the life of Mr. Rosato and you have any comments or stories about Pat that you would like to share, please e-mail Louis J. Muro. We also welcome any photos of Pat that you might have. To send an e-mail to Mr. Muro to submit comments, click here to go directly to his contact page.