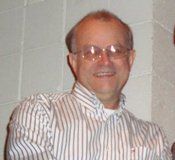 Jerry Hinton
Jerry Hinton died on March 12, 2017 at the age of 72. Mr. Hinton joined the Knights of Columbus on September 22, 1980 and served the Knights faithfully for more than 36 years.
A native of Margaret, Alabama, Mr. Hinton went to Gordon High School in Atlanta and was a graduate of Georgia State University. He served in Vietnam, with the Army's First Air Cavalry Division, and was a recipient of the Bronze Star for heroic achievement. Mr. Hinton was a self-employed tax accountant. He was a parishioner of St John the Evangelist Catholic Church in Geneva, Alabama and a parishioner for many years at St Stanislaus Catholic Church in Wylam. At St. Stanislaus, Mr. Hinton was actively involved as a board member, usher and he also served in several other capacities.
Mr. Hinton was a little league coach for many years. He was an avid Auburn Tiger, Atlanta Braves and Atlanta Falcons fan. He loved cooking and gardening, and sharing his crop with family. He loved spending time with his grandchildren, especially cheering them on in their sporting and dancing events.
Mr. Hinton was a devoted and loving husband, father, son, brother, grandfather and friend. He was always there for anyone who needed a hand, and was loved by all who knew him.
Mr. Hinton's funeral services were held at St. Stanislaus Catholic Church on March 16, 2017 and he is interred at Alabama National Cemetery in Montevallo.
Mr. Hinton was born on March 1, 1945 to Susie M. Messina and Henry D. Hinton. He was preceded in death by his father, Henry D. Hinton, and stepfather, Fredrick Voehringer. At the time of his death, Mr. Hinton was survived by his wife, Regina Espersen Hinton, daughter Brandi Shirah (Michael) of Geneva, son Wayne Hinton (Vanessa), of Auburn, mother Susie Oehringer, of Vestavia, sister Sharon Dierking (Brent) of Pelham, grandchildren, Cassie and Spencer Shirah, and Johnathan, Nash and Motley Hinton, and a host of aunts, uncles and cousins.
Editor's Note: We welcome any contributions to this page from any friends or family of our brother Knight Jerry Hinton. If you were one of the many who celebrated the life of Mr. Hinton and you have any comments or stories about Jerry that you would like to share, please e-mail Louis J. Muro. We also welcome any photos of Jerry that you might have. To send an e-mail to Mr. Muro to submit comments, click here to go directly to his contact page.