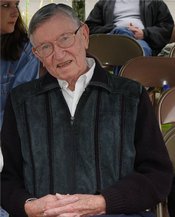 Albert Duchock
Albert S. Duchock was 83-years-old when he passed away on June 12, 2007.
He and his wife Elizabeth ("Libby") were longtime members of St. Patrick. Albert joined the Knights of Columbus on November 2, 1995.
A veteran of World War II, Mr. Duchock was a retiree from U.S. Steel. He and Libby have two daughters: Milissa Miller and Liz Dicke. They have four grandchildren: Amanda, Zach, and Chris Dicke and Candie Miller.
Albert and Libby Duchock were featured in 2006 in the "Parishioner Spotlight" on the St. Patrick Web site. In this interview, the couple talked about their lives. Click here to read this interesting insight into the life of brother Knight Albert Duchock and his wife Libby.
Editor's Note: We welcome any contributions to this page from any friends or family of our brother Knight Albert Duchock. If you were one of the many who celebrated the life of Mr. Duchock and you have any comments or stories about Albert that you would like to share, please e-mail Louis J. Muro. We also welcome any photos of Albert that you might have. To send an e-mail to Mr. Muro to submit comments, click here to go directly to his contact page.