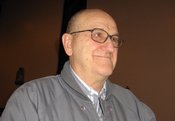 Mike Hobe
Michael F. Hobe died on December 12, 2013 at the age of 79.
Mike was a longtime servant of St. Patrick, serving as a Eucharistic Minister for many years at Saturday evening Mass. He was a charter member of Knights of Columbus Council 10567, making his First Degree on March 1, 1991 and his Second and Third Degrees on April 7, 1991. Mr. Hobe had a deep devotion to the Blessed Mother and was active in Pro Life activities.
Mr. Hobe was born on October 29, 1934, and was preceeded in death by his wife, Stephanie Hobe. At the time of his death he was survived by three sons: M. Chris Hobe (Sandra) of Williamsburg, VA, Scott J. Hobe (Kristen) of Trafford, AL, and Todd A. Hobe (Jamie) of Hummelstown, PA; father-in-law James E. Church, sister-in-law Pamela J. Brooks and grandchildren Haleigh M. Hinrickson (T.J.), Zachary A. Sinclair, Aiden M. Hobe, Samantha Hobe, Kathrine Hobe, Makenna Hobe, Miles Hobe and many other relatives and friends.
A celebration of his life was held at St. Patrick on Tuesday, December 17, 2013.
Editor's Note: We welcome any contributions to this page from any friends or family of our brother Knight Mike Hobe. If you were one of the many who celebrated the life of Mr. Hobe and you have any comments or stories about Mike that you would like to share, please e-mail Louis J. Muro. We also welcome any photos of Mike that you might have. To send an e-mail to Mr. Muro to submit comments, click here to go directly to his contact page.