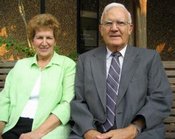 Jo and Paul Vizzinia
Paul and Jo Vizzinia
Tell us a little bit about your background:

We both were born and raised in Ensley where we were friends and attended public school together. We were members of St. Joseph's Parish in Ensley. There were many youth activities as well as religious instruction conducted by the Trinitarian Brothers and Sisters. Paul worked as a computer supervisor for Alabama Power Company. Jo worked part-time in various shops in the Forestdale area including Pizitz Bake Shop.
Have you always been a Catholic?
Yes.
How long have you been married?
We were married on September 21, 1955, after Paul retired from military service in Germany.
How long have you been a member of the parish?

About eight years.
How did you come to join St. Patrick?

One main reason at that time was to afford our children and grandchildren an opportunity to avail themselves of the many activities at St. Patrick's which were no longer available at St. Joseph's.
What activities are you involved in?
We are involved in the parish Pastoral Council, Legion of Mary prayer committee, Knights of Columbus, preparing food for the Bereavement Committee, Visiting the Sick Ministry and the Sunshine Club.
What is your favorite memory of St. Patrick?
Our favorite memory of St. Patrick is when our present Pastor was assigned to St. Patrick's.
What do you like most about being a member of St. Patrick's?
The spirituality, friendliness and family-like atmosphere.
Of all the people you have known at this parish who are now deceased, who would be your favorite and why?
It would be difficult to pick a favorite among persons we have known who are now deceased but Jerome Bradley and Mary Gibbons would be there because both were so charismatic. We felt as though we were never strangers to either of them.
Editor's Note: The Vizzinias will soon celebrate their 50th wedding anniversary. We, as a parish, wish to congratulate them on this landmark in their lives.