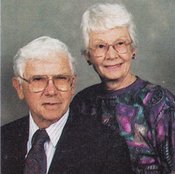 Earle and Freddie Canoles
Dennis Earle Canoles was 96-years-old when he passed away on December 17, 2011.
He and his wife Freddie were longtime members of St. Patrick who spent the final years of their lives living with their family in Georgia. Freddie was a member of the Ladies Auxiliary.
Earle was the oldest living member of St. Patrick Council 10567 at the time of his passing. He joined the Knights of Columbus on June 1, 1954 and was a charter member of Council 10567.
Mr. Canoles died in Atlanta, Georgia, while under Hospice care. He was born on May 18, 1915, in Ensley, Alabama, and attended Minor High School. Earle and his wife Freddie, also of Ensley, were married on June 24, 1939, in Bessemer. At the time of his death Earle was survived by four children: Jeanne Conquest of Temperanceville, Virginia; Joe Canoles of Woodstock, Georgia; Pattie Waller of Wytheville, Virginia; and David Canoles of Advance Mills, Virginia; 11 grandchildren and 15 great-grandchildren.
Funeral services were held on Wednesday, December 21, 2011 at St. Patrick.
Editor's Note: We welcome any contributions to this page from any friends or family of our brother Knight Earle D. Canoles. If you were one of the many who celebrated the life of Mr. Canoles and you have any comments or stories about Earle that you would like to share, please e-mail Louis J. Muro. We also welcome any photos of Earle that you might have. To send an e-mail to Mr. Muro to submit comments, click here to go directly to his contact page.