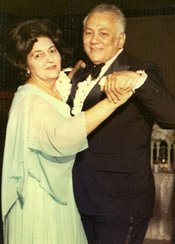 Louis N. Muro
Louis N. Muro died on February 22, 1996 at the age of 78. A lifelong resident of Birmingham and a United States Army veteran, Mr. Muro served in the South Pacific during World War II. He was an active member of St. Patrick for many years, serving as lector, usher and as a member of the Sunshine Club.
Mr. Muro started working on forming a Knights of Columbus Council at St. Patrick in 1990. After receiving permission from his good friend and pastor, Father Ray Murrin, Mr. Muro started signing up men to be part of the new Council. The St. Patrick Council became official in 1991, becoming the 10,567th Knights of Columbus Council to be chartered.
Mr. Muro has four sons (Alex, Louis, Ronnie and Michael) and two grandsons (Chris and Matthew) who are members of Council 10567.
Editor's Note: We welcome any contributions to this page from any friends or family of our brother Knight Louis N. Muro. If you were one of the many who celebrated the life of Mr. Muro and you have any comments or stories about Louis that you would like to share, please e-mail Louis J. Muro. We also welcome any photos of Louis that you might have. To send an e-mail to Mr. Muro to submit comments, click here to go directly to his contact page.