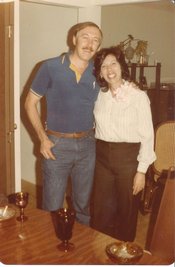 Bernard and Camille Von Hagel
Bernard Von Hagel, a charter member of Council 10567, passed away at the age of 70 on Friday August 7, 2015.
He was retired from the Birmingham Fire Department after 33 years of service and a member of St. Patrick's Catholic Church.

Funeral mass was held on Monday, August 10, 2015 at St. Patrick with Father Vernon Huguley officiating. Burial followed at Elmwood Cemetery.

Bernard was preceded in death by his wife, Camille Von Hagel; parents, Alvin and Edith; sister, Sandy Von Hagel and daughters, Nina Renda and Tina Stover.

He was survived at the time of his death by sons, Stephen Von Hagel (Tonya) and Daniel Von Hagel (Kristan); son-in-law, Mark Renda; sisters, Amy Richardson and Susan Erwin (Randy); brother, R.L. "Budgie" Von Hagel (Jane); 12 grand-children and a host of nieces and nephews.
Editor's Note: We welcome any contributions to this page from any friends or family of our brother Knight Bernard Von Hagel. If you were one of the many who celebrated the life of Mr. Von Hagel and you have any comments or stories about Bernard that you would like to share, please e-mail Louis J. Muro. We also welcome any photos of Bernard that you might have. To send an e-mail to Mr. Muro to submit comments, click here to go directly to his contact page.