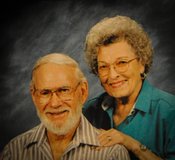 Jessie and Lillian White
Jessie White passed away in August 2015 after a long illness.
Jessie became a Knight on November 1, 1994 and he and his wife Lillian were active members at St. Patrick for many, many years. Jessie was 87-years-old at the time of his passing.
Editor's Note: We welcome any contributions to this page from any friends or family of our brother Knight Jessie White. If you were one of the many who celebrated the life of Mr. White and you have any comments or stories about Jessie that you would like to share, please e-mail Louis J. Muro. We also welcome any photos of Jessie that you might have. To send an e-mail to Mr. Muro to submit comments, click here to go directly to his contact page.
Chris Muro
Jessie was one of the greats. The word I think best describes Jessie is "gentleman". Always looked dapper, had that soft spoken tone, respectful, and had an aura of class about him.
Ronnie Muro
Jessie and Lillian were in my Renew group. They came to my house every week for years… drank coffee… ate apple dumplings. He loved my Daddy and I'll never forget him telling me how a story about how Daddy had a way of moving that was so graceful. He demonstrated to me how Daddy would get out of the pew at morning mass when he was going up to read. It was a small observation but one I still remember.

I remember Jessie telling me that he and Lillian had met when they were teenagers (14 maybe). Her parents didn't like Jessie as I recall. Jessie with a twinkle in his eye would say they'd been together over 50 years since then. It may have been even 60 I can't recall for sure. Then he said something like "They didn't think it would last." To which Lillian replied "Well, we'll see about that!"

What a great example of married life.
RIP, Jessie. You and Lillian are back together now.