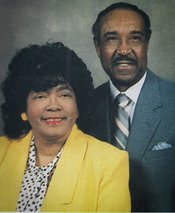 Floyd and Bernice White
Floyd Zell White died on November 26, 2014 at the age of 91.
Floyd was a charter member of St. Patrick Knights of Columbus Council 10567. He made his First Degree on March 24, 1991 and his Second and Third Degrees on April 7, 1991. All three exemplifications were held at St. Patrick.
At the time of his death Floyd was survived by his two children, five grandchildren, nine great grandchildren, two great-great-grandchildren and brother.
Born on December 4, 1922 Floyd grew up in Bessemer, Alabama, with his brothers Johnnie Laurie and Elmer. Floyd attended Dunbar high school and went on to graduate from Tuskegee Institute of Technology with a degree in engineering. He retired from Ford Motor Company as an audio engineer.
Floyd was an active member of Prince of Peace Catholic Church.
Survivors include his children: son, Bishop Langston C. White (Vivian) and daughter, Cornelia Ann Scott (James); grandchildren: Lori, Tahara, James II, Jason, Langston; great-grand-children: Joshua, Simone, Kyle, Zoe, Mackenzie, Jaylen, Jason Jr, and Madison; great-great-grandchildren: Alena and Giselle; brother, Elmer White; and a host of family and friends. Floyd was preceded in death by his wife of 58 years, Bernice; and his parents, Annie and Rufus White. Services were held at Prince of Peace Catholic Church on Saturday, November 29th, 2014. Final interment was at Lincoln Memorial Cemetery.
Editor's Note: We welcome any contributions to this page from any friends or family of our brother Knight Floyd White. If you were one of the many who celebrated the life of Mr. White and you have any comments or stories about Floyd that you would like to share, please e-mail Louis J. Muro. We also welcome any photos of Floyd that you might have. To send an e-mail to Mr. Muro to submit comments, click here to go directly to his contact page.