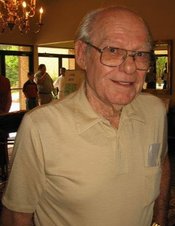 Steve McArdle
Stephen Aloysius McArdle, Jr. died on April 10, 2014 at the age of 86.
Mr. McArdle was a charter member of Knights of Columbus Council 10567 and he and his wife Jo were married for almost 63 years at the time of his death.
A longtime member of St. Patrick, Mr. McArdle was a Korean War Veteran and retired from Southern Company Services. He was a longtime member of the Fraternal Order of the Eagles. Mr. McArdle was preceded in death by his parents, Stephen A. McArdle, Sr. and Margaret O'Hare McArdle; sisters, Mary Catherine Carroll and Joanne Brown; and brothers, Bill McArdle, Jim McArdle and John McArdle. He was survived at the time of his death by his wife Jo McArdle; daughter, Peggy McArdle; sons, Stephen A. McArdle, III (Glenda), Randy McArdle (Dianne) and Pat McArdle (Tammy); grandchildren, Stephen A. McArdle, IV. (Amy), Shawn McArdle, Megan McArdle, Katie McArdle, Patrick McArdle, Jr., Michael McArdle, Amanda Terry, and Mallory Terry; great grandchildren, Riley McArdle, Truman McArdle, Nola McArdle and Avett Doss; and numerous nieces and nephews.
Funeral services were held on Saturday, April 12, 2014 at St. Patrick with burial in the Alabama National Cemetery.
Editor's Note: We welcome any contributions to this page from any friends or family of our brother Knight Steve McArdle. If you were one of the many who celebrated the life of Mr. McArdle and you have any comments or stories about Steve that you would like to share, please e-mail Louis J. Muro. We also welcome any photos of Steve that you might have. To send an e-mail to Mr. Muro to submit comments, click here to go directly to his contact page.