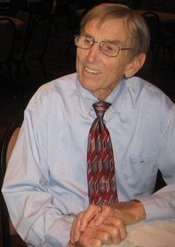 Jim Milko
Jacob C. "Jim" Milko died on Sunday, September 23, 2012.
Mr. Milko lived in Edgewater at the time of his death and was 84-years-old.
He was a U.S. Marine veteran and retired from the U.S. Steel Transportation Department. He was a former member of St. Joseph's Catholic Church in Ensley and a longtime member of St. Patrick.
Mr. Milko was preceded in death by his wife, Mary Frances Tunnello Milko; parents, Mikudas "Mike" & Justina Milko; and brother, John Milko. Survivors include his son, Christopher Milko; daughter, Gena Milko; grandchildren, Patrick Ryan Milko, Karl Benjamin Nagel and Kiersten Yvonne Nagel; and sister, Cecilia Bolton.
Visitation and Funeral Mass were held on Wednesday, September 26 at St. Patrick.
Editor's Note: We welcome any contributions to this page from any friends or family of our brother Knight Jim Milko. If you were one of the many who celebrated the life of Mr. Milko and you have any comments or stories about Jim that you would like to share, please e-mail Louis J. Muro. We also welcome any photos of Jim that you might have. To send an e-mail to Mr. Muro to submit comments, click here to go directly to his contact page.