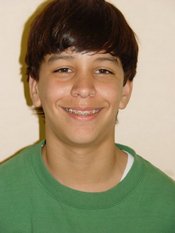 Jeremiah Johnson
Jeremiah Johnson
Tell us a little bit about yourself:

I was born on August 9, 1991 at Princeton Hospital. I was baptized at the age of seven at St. Patrick. I also received First Reconcilation, First Communion and Confirmation at St. Patrick. I attended St. Aloysius in Bessemer and am presently a Junior at John Carroll Catholic High School. I am on the Cross Country Team, in the band and enjoy playing baseball.
Have you always been a Catholic?
Yes.
How long have you been a member of the parish?

Since age four.
How did you come to join St. Patrick?

I was taken to the parish by my Grandmother, Cathie Barron.
What activities are you involved in?
SPIRIT Youth Group, Altar Server, Lector, Columbian Squires, and the Catholic Cruisers.
What do you like most about being a member of St. Patrick's?
I love the worship band, "Absolute Presence" and the Catholic Cruisers.