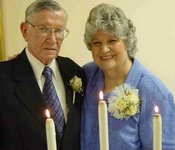 Albert and Libby Duchock
UPDATE: Mr. Albert Duchock went home to the Lord in 2007. May his good soul rest in peace.
Tell us a little bit about your background:
Albert: I grew up in Brookside, Alabama. My parents were John and Elizabeth Duchock and came to this country from Czechoslovakia. They were Polish by descent. I was the youngest of seven children: Joe, Lefty, Steve, Charlie, Mary and Annie, all who are now deceased. My father died when I was in the fifth grade and my mother died when I was in the tenth grade. I lived with different siblings after my parents died.
After high school, I joined the Army where I served for three years. I served in World War II and returned home to Brookside. I attended trade school in Fairfield while living with my brother, Charlie Duchock (John Duchock and Monica's [Crocker] father). Eventually I got a job at U.S. Steel in Fairfield. I worked there for 35 years and retired in May of 1985.
Libby: I grew up in Mulga, Alabama. My parents were Minnie and Frank Schober. My mom converted to Catholicism on her wedding day. My siblings are Frank Schober (a member of St. Patrick's), Joe, who is deceased and Mary, who lives in a nursing home in Massachusetts. After raising our children, I worked at Parisian's for 15 years and retired on disability.
Have you always been a Catholic?
Albert: Yes. I attended the Catholic Church and school in Brookside where the school was so small it was divided into two rooms (first room had grades 1-5 and the second room had grades 6-8). Two nuns taught the entire school and one was even the cook! During my fifth grade year, the school closed due to lack of students. I then attended Brookside public school and eventually Minor High School.
My strong faith came from my mother. She would say, "When you hear those church bells ring, you will be in church." My mother was very strict.

Libby: Yes. Actually, my Catholic faith has a significant history.
My grandparents were Jake and Cecilia Schober. They also lived in Mulga where there were no Catholic churches nearby so Grandpa Schober built a big room onto his house and made it the Mass room. There was an altar and everything needed for offering Mass. Grandpa made a holder for the Bible and also a holy water font (I still have my Bible sitting on that holder and the holy water font). We went to "open confession" while the priest sat in an easy chair and we knelt down beside him while receiving the sacrament of Confession. All the priests who came to say Mass were from the mission. Different people from surrounding areas gathered there fro church. After Mass was over, Grandpa would make a German dish called "smoden and gravy" and fed everyone who attended.
After Grandpa died, the room was closed and the family attended St. Alice Catholic Church in Edgewater, a mission church.
My deep faith was instilled by my Grandma Schober. She was what everyone called a saint. Grandma loved chicken wings. She had a little saying: "I'm gonna' eat enough chicken wings to fly to heaven!" I have always tried to follow in her footsteps in all ways of life.
How long have you been married?
Libby and Albert: We were married at St. Alice Catholic Church by Father Ed Foster on April 24, 1954. We had a wonderful 50th anniversary celebration on April 24, 2004. We had Mass wherein we exchanged our vows again and there was even a new ring for the bride! We were very blessed to have Father Underwood celebrate Mass and share Eucharist with us. We had a wonderful reception in the St. Joseph Hall with so many relatives and friends attending.
Tell us about your children.
Libby and Albert: We have two wonderful daughters, Liz and Milissa and a great son-in-law, John Dicke. They have four incredible children: Amanda, Zachary, Christopher and Candie, all of whom have been brought up in the Catholic faith.
We have four godchildren with whom we stay in close contact and have all their lives. We have eight "great godchildren" and four "great-great godchildren" who are all Catholic. We believe in staying close with our godchildren because it is important to always remember your baptismal promises no matter how old you may be.
We also have a great number of nieces and nephews who we love and treat as our own children. All of them are always very willing to lend a helping hand with we need them. We so appreciate all of their help, especially in recent times.
How did you come to join St. Patrick?
Libby and Albert: While our children were in school, it was necessary to belong to the same parish church and the closest one was St. Anthony's in Ensley. Eventually, St. Anthony's school closed and the girls attended St. Joseph's, a "regional" school. We remained at St. Anthony's during that time. Liz went on to attend Minor High School and Milissa attended John Carroll Catholic. After our children were both out of school, we were looking to join another parish where we might be happier. That's when we found St. Patrick's. It was only four miles from our house.
How long have you been a member of the parish?
Libby and Albert: Not sure but when we first joined, Mass was being held in the activities room which was built before the church.
What activities are you involved in?
Albert: Knights of Columbus
Libby: Choir, Sunshine Club, Rosary Club, Bereavement Committee and Telephone Committee. We had a RENEW prayer group with 17 members that continued to meet until we ran out of RENEW materials to study!
What is your favorite memory of St. Patrick?
Libby: The choir putting on two shows under the direction of Lou Colombo: the first was a Hee Haw show where everyone had parts to play (taken from the then famous show). It was a fundraiser (equipment and piano) for the choir and tickets were sold to the parishioners who were very supportive. We also put on a Nifty Fifties show which ran for two nights. Choir members impersonated different song artists of the 50's. It was a great success.
What are your hobbies?
Libby: I like to make rosaries, paint ceramics, cook, bake, play the piano and make jewelry.
Albert: I enjoy working in the yard, gardening and fishing.
Who are your relatives in the parish?
Libby and Albert: Our daughter, Milissa and her daughter, Candie, attend St. Patrick's. Frank Schober is my oldest brother. Donnie Schober, Bernadette Diamond and Doris Moody are my nieces and nephew (Doris is also my goddaughter) and Monica Crocker and her brother, John Duchock, are our niece and nephew as well.
Of all the people you have known at this parish who are now deceased, who would be your favorite and why?
Libby: Former choir director, Lou Colombo. Lou was a retired professional musician and taught all the people in the choir not to be afraid to be a cantor because they were doing it for God. When Lou died of cancer, a special Mass was offered and a red rose was placed in his empty chair by the choir members.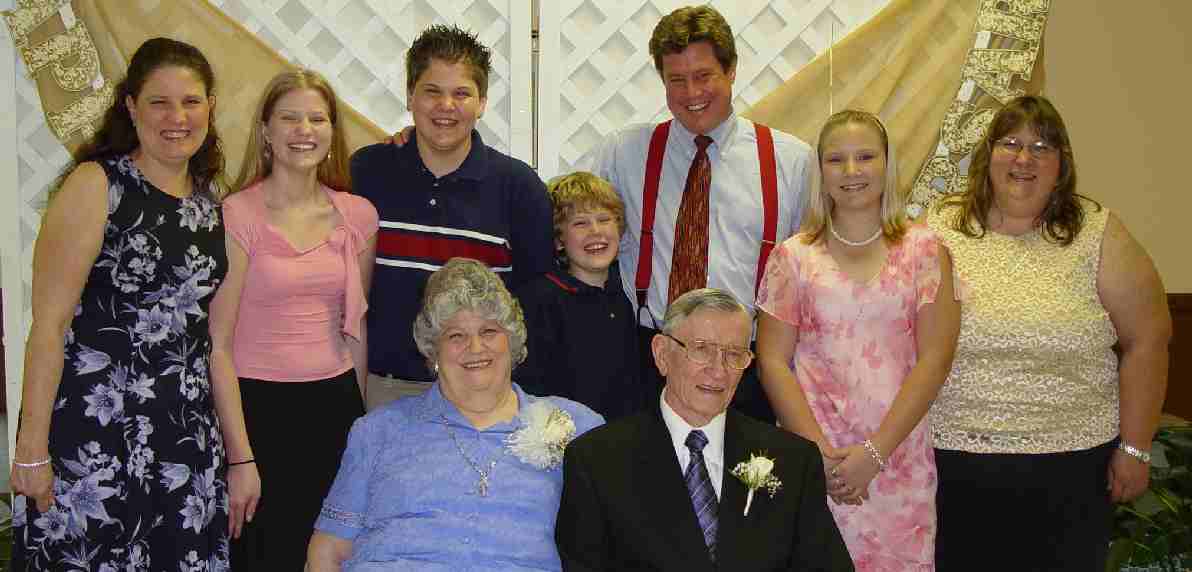 L-R: Liz, Amanda, Zachary, Christopher, John, Candie and Milissa
at our 50th Anniversary Celebration