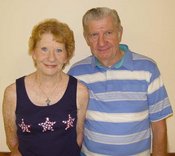 Don and Doris Thompson
Don and Doris Thompson

Tell us a little bit about your background:
Don: I grew up in Brooklyn, New York. While living there I attended Saint Teresa's church. I moved to Alabama and eventually had five children.
Doris: I was born and raised in Cold Springs, Alabama I have six brothers and sisters. Don and I have been married for 25 years.

Have you always been a Catholic?
Don: Yes
Doris: No


If not, how or why did you decide to convert to Catholicism?
Doris: I decided to become Catholic when my daughter started CCD classes at St. Patrick.

How did you come to join St. Patrick?
Don and Doris: A friend recommended that we attend.

How long have you been a member of the parish?
Don and Doris: We have been members here for 13 years.

What activities are you involved in?
Don: Knights of Columbus 4th Degree; Pro-Life Marches; Legion of Mary
Doris: Ladies Auxiliary, Pro-Life Marches, Legion of Mary

What is your favorite memory of St. Patrick?
Don: When my wife and daughter became Catholic.
Doris: Being baptized and becoming a Catholic.

What do you like most about being a member of this parish?
Don and Doris: The friendly parishioners, working with Sister Maura, Father Bean and Pegi Gilmore, and the comforting environment.

Of all the people you have known at this parish who are now deceased, who would be your favorite and why?
Don: Jerome "J. C." Bradley because he was the best inspiration and friend I have ever known.
Doris: Jean Daniels because she was the most devoted and caring lady and welcomed me into the Catholic Faith.